Ravage: An Astonishment of Fire by MacGillivray PRE-ORDER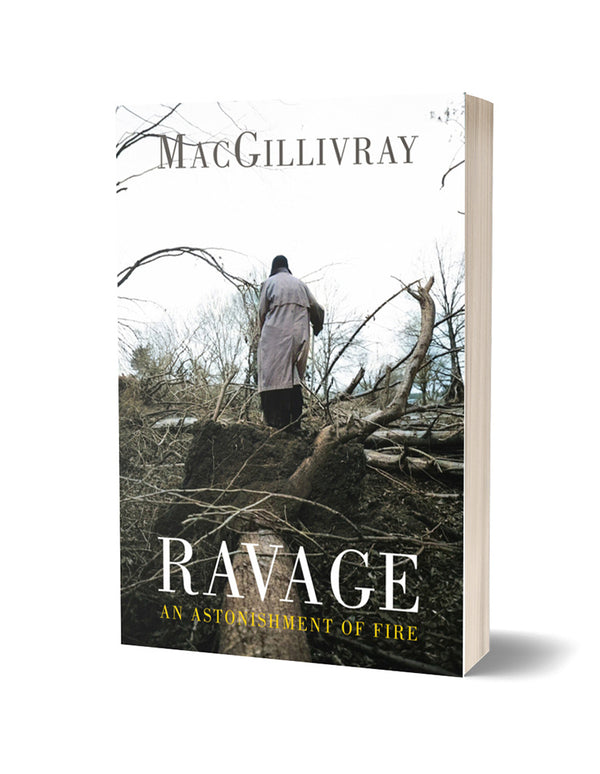 Published 16th November 2023. Available for pre-order.
Ravage: An Astonishment of Fire draws together MacGillivray's extensive research into the life and work of Norwegian-Shetlandic poet Kristjan Norge, who vanished from Eilean a' Bhais in the Outer Hebrides in 1961. Comprising two previously unpublished manuscripts by Norge, Optik: A History of Ghost (1950) and Ravage (1961), this collection also includes rare original material, giving insight into Norge's troubled existence and mysterious disappearance. Optik: A History of Ghost, the opening triadic poem, typifies Kristjan Norge's early work and is a meditation on Greek optics, horary ghostliness and illumination by fire.

Composed in 1950, Optik draws on letters twelve and thirteen of the correspondence between scientist-inventor Sir David Brewster and Sir Walter Scott on natural magic, to isolate the figure of 'John Christ' whom Norge positions as a visionary homunculus created from the saline ash of alchemical phantasmic experiments. Ravage is the centrepiece of the collection, a numinous tract written in the months preceding Kristjan Norge's disappearance in 1961, convinced he was a demon. Washed up in a storm, subsistence on Bas had proved an increasing strain on Norge, who felt his self-exiled status intensively.

In response to both this isolation and the unexpected revelation of his demoniacal status, Norge evolved a complex amnesiac system, aware that if only he could forget this singular aspect of himself, then release might follow. Inevitably cryptic, this Norgesian schema has been recovered from fragments concealed at ten sites on the Scottish island. Norge's impression of Eilean a' Bhais as an underworld threshold leant weight to his suspicion that the island was indeed attracting the Sluagh nam Marbh, or Host of the Dead, a Gaelic westerly wind of malign voices that allegedly imparted the knowledge of his demonhood to him.

Optik: A History of Ghost and Ravage are supplemented by additional archival materials which flesh out Norge's intellectual and personal concerns. Among these is a detailed schema of his amnesiac process, items of correspondence, maps, photographs and logbook entries. A work of fiction entitled The Wind of Voices, which is based on this mercurial period in Norge's life, concludes the collection.

MacGillivray is the Highland name of writer and artist Kirsten Norrie. She has published three other poetry books, The Last Wolf of Scotland (Pighog/Red Hen, 2013), The Nine of Diamonds: Surroial Mordantless (Bloodaxe Books, 2016) and The Gaelic Garden of the Dead (Bloodaxe Books, 2019).
Bloodaxe Books
Join the Poetry Book Society for 25% off all books