Primers Volume 6 by Kym Deyn, Estelle Price and Fathima Zahra, ed. By Rishi Dastidar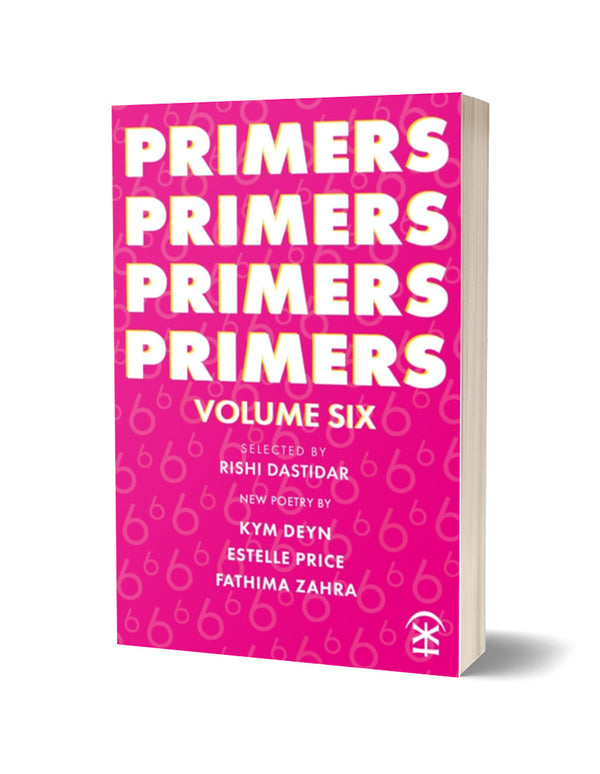 In 2021, Nine Arches Press launched their nationwide Primers scheme for a sixth time, in search of exciting new voices in poetry, with Rishi Dastidar and Jane Commane as selecting editors. After reading through hundreds of anonymous entries, and narrowing down the choices from longlist to shortlist, three poets emerged as clear choices: Kym Deyn, Estelle Price and Fathima Zahra.
Primers Volume Six now brings together a showcase from each of the three poets. An essential, insightful collection of new work from some of poetry's most talented emerging voices.


Kym Deyn is a poet, playwright and fortune teller. They have a Legitimate Snack forthcoming with Broken Sleep Books, as well as work in Carcanet's Brotherton Poetry Prize Anthology. Otherwise, they have been widely published in a range of anthologies and journals including Butcher's Dog and the Valley Press Anthology of Prose Poetry. They are one of the winners of the 2020 Outspoken Prize for Poetry.
Estelle Price is the winner of the 2021 Welsh Poetry Competition and the 2018 Book of Kells Writing Competition. Her poetry has been placed/ listed in the National, Bridport, Welshpool, London Magazine and other competitions. Poems have left home for Poetry Wales, Crannog, Marble Poetry, 14 Lines, Alchemy Spoon and the Stony Thursday Book. Before she knew she was a poet she was a lawyer, a classicist, a charity worker.
Fathima Zahra is an Indian poet and performer based in Essex. She is a Barbican Young Poet and a Roundhouse Poetry Collective alum. Her poems have won the Bridport Prize, Asia House Poetry Slam and Wells Fest Young Poets Prize. Her debut pamphlet Sargam / Swargam is out with ignitionpress. 
Join the Poetry Book Society for 25% off all books