Polka Dot Poems by Zaro Weil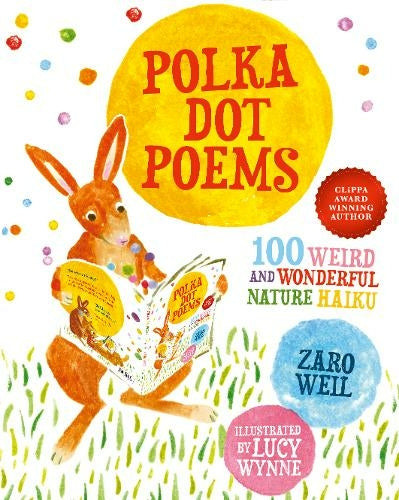 An exuberant, humorous and eye-popping poetry primer for young children.
The 100 simple yet highly evocative haiku are based on the natural world and conjure up nature in all its diversity, from the wonderfully ordinary to the positively weird. Featuring kittens, rainbows, the wind, pangolins, Venezuelan poodle moths, aye-ayes, puffins, platypuses, sun bears, mud puppies and more, every page pulsates with pure delight and excitement.
Exploring the colourful words, shapes, colours and rhythms, children will be drawn into a dynamic and captivating poetic world where language and meaning magically merge.
A glossary at the end of the book explains amazing facts about some of the more unusual creatures.
Polka Dot Poems is an exciting introduction to nature at its most companionable and heart- thumping best. It's an absolutely must-read for young poetry explorers and nature lovers everywhere.
Join the Poetry Book Society for 25% off all books