Poetry Card for All Occasions: John Keats, 'Ode on a Grecian Urn'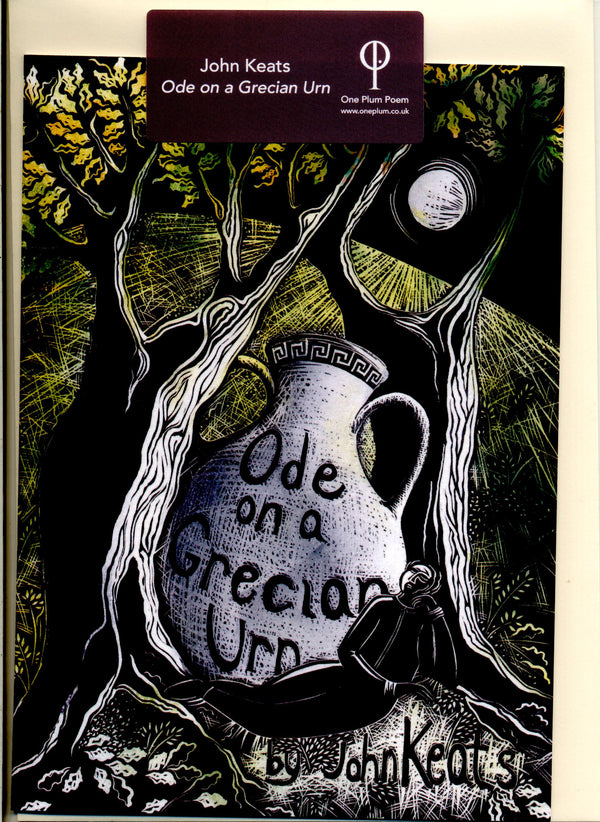 John Keats (1795 – 1821) was one of the 'second wave' of English Romantic poets that also included Percy Bysshe Shelley and Lord Byron.  After training as a surgeon, Keats gradually abandoned a medical career in favour of a literary one, his power as a writer finding increasing recognition during his short lifetime. 
The beautiful 'Ode on a Grecian Urn' was written in 1819.  It is a masterpiece and (rightly) considered to be one of the greatest odes in the English language.  Its deliberations – including the advantages and drawbacks of life versus art, and the interplay between them – are set out with such balance that the poem feels both like a polished work of perfection and yet also an unfinished, a never-to-be-finished internal conversation.   Technically extraordinary, it is one of a series of odes in which Keats pushed back the boundaries of the ode form.
The cover illustration for the card was commissioned from Sarah Kirby, an artist and print-maker based at the Leicester Print Workshop. 
Join the Poetry Book Society for 25% off all books