Plastic Tubed Little Bird by Wendy Allen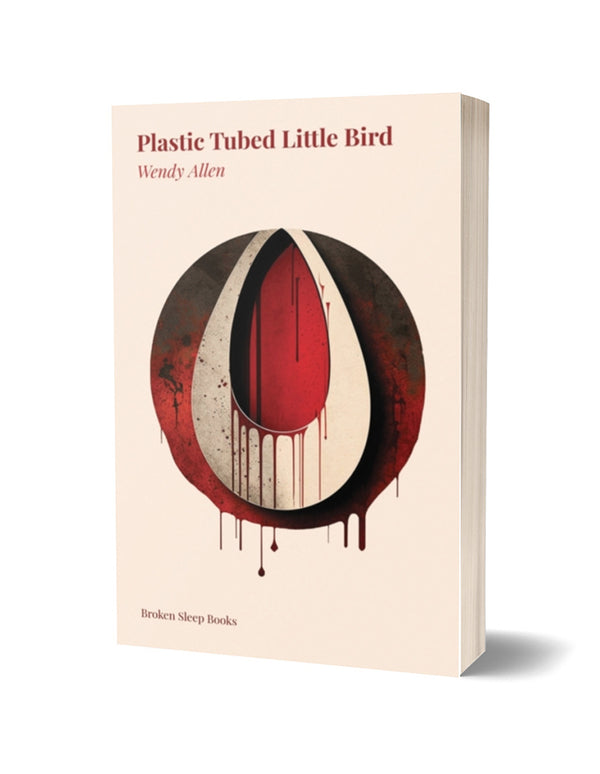 Wendy Allen's erotically charged pamphlet Plastic Tubed Little Bird, finds the speaker of her poems "wearing lipstick /the exact colour of my cervix" and "masturbating whilst reading Anaïs Nin". Through a tumble of poetic forms, Allen writes about orgasm, female sexual liberation and Barbara Hepworth. Her poems are tinged with vulnerability and honesty, singing of a body turned on, plugged in, electric.
PRAISE for Plastic Tubed Little Bird:
Reading Wendy Allen's poetry makes me realise there is a precision to the erotic, every line feels like a held breath.
   — Caroline Bird, The Air Year
In poems of playful eroticism driven by heady rhythms, Wendy Allen exposes parts of life often kept hidden – oral sex, periods, masturbation, female desire. Even ekphrasis becomes an act of love, in a poem to Barbara Hepworth, where 'your curves are laced intricately, woven with the asides of being a woman.' ('Barbara'). Allen's is a fresh and bold new voice, determined to delight.
   — Sarah Corbett, A Perfect Mirror
Plastic Tubed Little Bird is a bold and sensorial collection 'woven with the asides of being a woman'. Wendy Allen centres sex and desire, often through striking metaphors of 'an unspecified sea', and always with careful attention to form and syntax­ – a keen awareness of punctuation, breath, and space. Threaded with references to Barbara Hepworth and other women artists, these imagistic poems are also driven by the language of artistic practice, and they are rife with rich, delightfully evocative imagery. Plastic Tubed Little Bird is a truly pleasurable and enticing debut pamphlet.
   — Alycia Pirmohamed, Another Way to Split Water
ABOUT Wendy Allen:
Wendy Allen's work has appeared in Poetry Wales, Ambit, The Moth, Banshee, Poetry Ireland Review, The North and Propel. Plastic Tubed Little Bird is her debut pamphlet. 
Join the Poetry Book Society for 25% off all books