Perseverance Valley by Sarah Cave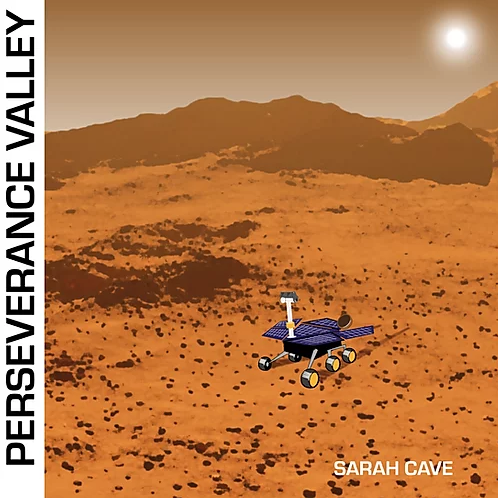 Perseverance Valley is a book that transcends the human, the nonhuman and other worlds. Amongst the mountains, basalt icons and the 'mystery-of-purple-lights-in-the-sky', Opportunity's searching on the red planet becomes an act suffused with spirituality. Like Opportunity, Cave's poetics roam in curious, unexpected and illuminating directions; alighting on King Lear, Bethlehem, string theory and Vermeer. These are poems that strikingly reach out: 'Please won't you be my neighbour? // Opportunity croons / across the ionosphere'.  
    – Isabel Galleymore
Given only a modicum of imagination and lack of object permanence we might have found something poignant in the last messages from the Mars Rovers. But what Cave achieves in Perseverance Valley, among other things, is converting the story of Spirit and Opportunity into a Greek tragedy, a Gospel, an opera, a fractured epic poem, an origin story and an eternal elegy. Far from 'the B side of the planet', it's urgent, timelessly inventive and genuinely moving.
    – Luke Kennard
At this teetering moment in humanity's story, Cave's Perseverance Valley is an audacious quest into the unknown, sampling a 'creel of lost and found data' to evolve our understanding of what consciousness is, and could become. This groundbreaking narrative, with its highly experimental vocal and visual textures, tries the bounds of comprehension as its cast of bots and satellites come to terms with their brave new world. It's a relief, in this, the Anthropocene, to read a collection that acknowledges with such tenderness and humour that the human species is on the brink of becoming natural history.  A psalm to human creativity, a hymn to the long story of our yearning for the divine – Perseverance Valley messes with your head in a most necessary way.
    – Jen Hadfield
Join the Poetry Book Society for 25% off all books