ONE PLUM CARDS: PLUM PICKING BY ELLA DUFFY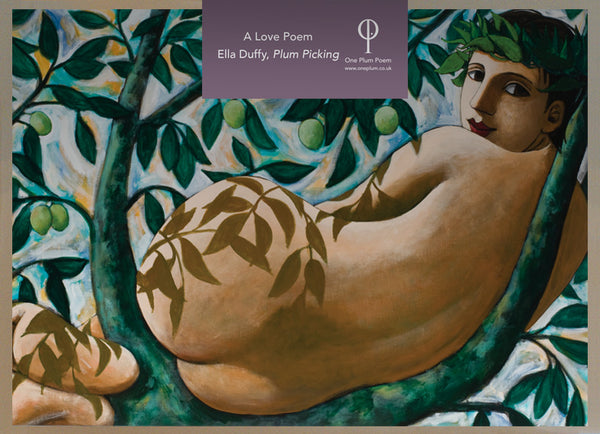 'Plum Picking' by Ella Duffy

Ever since setting up One Plum Poem, we've been looking for a new poem with plums as its subject, and we're delighted that we have found one by Ella Duffy, which we present here in all its sexiness and style, freshness and originality, along with an image by the wonderful Anita Klein. The poem is printed inside the card and can be viewed here, below, at the bottom of this page. 'La Regina Claudia', the name of the cover image by Anita Klein, is both an ancient variety of plum and also a perfect description of the woman looking back over her shoulder at us in the branches of the plum tree.

Ella Duffy is a London-based poet. Her work has appeared in publications including The Guardian Review, The Rialto, The Aesthetica Creative Writing Annual and The Poetry Salzburg Review. She was a runner-up in The Ginkgo Prize for Ecopoetry (2018) and has been shortlisted for The Bridport Prize (2018) and The Aesthetica Creative Writing Award (2018).

Anita Klein's paintings and prints are well known and much loved. They can be viewed at www.anitaklein.com.
 

Plum Picking
I hold your coffee as you reach

for the highest branch,

pluck a plum from its stem

and with your thumbs

pull the flesh apart.

 

You check for worms and wasps 

then bite down, head tipped,

lips glossed with syrup

which I kiss, and with my teeth

steal the stone

 

from your mouth

to rest on my plate

like a promise, a vow

passed between us, coloured

and perfumed with fruit.

  
by Ella Duffy
Join the Poetry Book Society for 25% off all books