On A Bat's Wing: Poems About Bats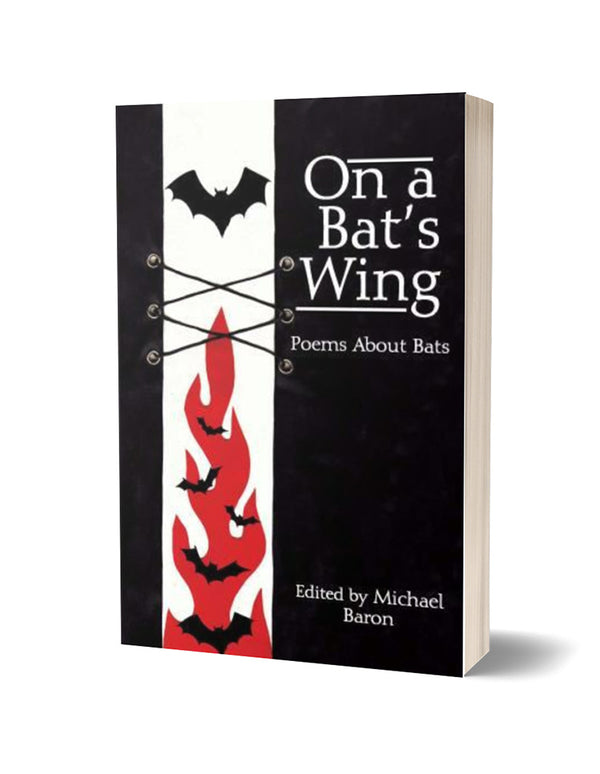 Bats have had a bad press.
Yet they snaffle bugs by the thousand
And carefully clean their babies' faces.
Catriona O'Reilly, A Lecture upon the Bat
Poets through the ages have written about love, loss, war and peace and…bats. Emily Dickinson, Edward Lear, D. H. Lawrence and Stevie Smith as well as modern poets Seamus Heaney, Kathleen Jamie, Les Murray and Ted Hughes have found bats to be a source of inspiration and mythology, flitting in and out of human experience in some unexpected ways. The title of this collection is based on a line in The Tempest.
Winging through the leaves of this unique anthology and hanging upside down on its every page are bats large and small, real and fictional; scary bats, scared ones, evil bats and positively heroic ones, bats on ceilings and skylines, in airing cupboards and even cuddling up in bed with some of the 65 authors included.
Professor John Altringham (University of Leeds) provides a preface, briefly introducing us to the more than 1,100 species of bats throughout the world.
"Not long ago, following some chiropterophobic remarks in this column, I was reproached in gentle terms by the mild-mannered members of our great nation's bat-fancying community. At last I have the chance to make amends, by recommending a book of poems about bats. Who knew there were enough good poems about bats to make a chapbook, far less an entire anthology? Yet here they are – wonderful poems by Seamus Heaney, Emily Dickinson, William Shakespeare, D H Lawrence, John Updike and dozens of others. I particularly enjoyed Frank Jacobs's poem, which ends: "Bats when flying undismayed are;/ Bats are careful; bats use radar;/ Bats at night-time at their best are; Bats by Batman unimpressed are!" On A Bat's Wing is published by Five Leaves Poetry, and all royalties go to the Bat Conservation Trust. Every byre should have one."
- Daily Telegraph#
Five Leaves
Join the Poetry Book Society for 25% off all books