Of Breaking Glass by James Byrne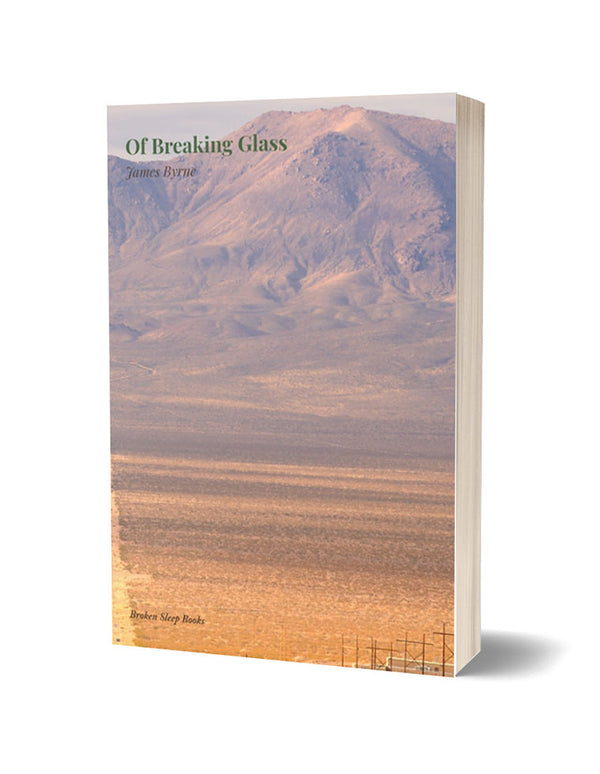 Of Breaking Glass is an elegiac sequence for James Byrne's brother, Robin, who passed away unexpectedly during the initial Covid lockdown. These poems, set in California's Death Valley during a heatwave, are an attempt of one sibling to bury another's first memory: the sound of breaking glass. Ritualising loss, memory and language, this tender, brilliant book, replete with stunning colour photographs, evokes the most intimate kind of writing. Of Breaking Glass is a series of poems that hold out the possibility of becoming something more than our inevitable, eventual end.
PRAISE for Of Breaking Glass:
Some poetry collections you read. Others you journey into. James Byrne's incredible Of Breaking Glass takes you on a voyage, not only through the labyrinthine paths of pain and loss, but into a deeper stillness; into something which feels like communion. Byrne's requiem is a monument. It speaks the voice of his brother, Robin, through the void of finality we thought we could not cross. Here elegy collides with the epic tradition – the hero's otherworld-quest in Homer's Odyssey, Dante's Inferno, James Joyce's Ulysses – and the result is a shattering of the familiar physics of space and memory into an ever-refracting kaleidoscope of love: a portrait repeated in broken fragments so astounding in the shimmering brutality of its beauty that its revelation is the gift of compassion. Byrne's hymn to his brother is bardic, splintered and raw. It shows us that absence does not begin in a single temporal point, but accumulates slowly through the hopes and hurts of a lifetime.     You, reader, will wear the heat of these poems like a second skin, discovering ways into an unacknowledged dark which lies just behind each human bond. Only the most gifted of poets can lead you back by the hand into the eye-blistering light so scorched and yet so blessed to have seen a hidden world. Byrne's talent has a sticky grace; it clings long after you have closed the book. A collection every devotee of innovative poetic form needs to experience.
— Chris Laoutaris, Bleed and See
Join the Poetry Book Society for 25% off all books