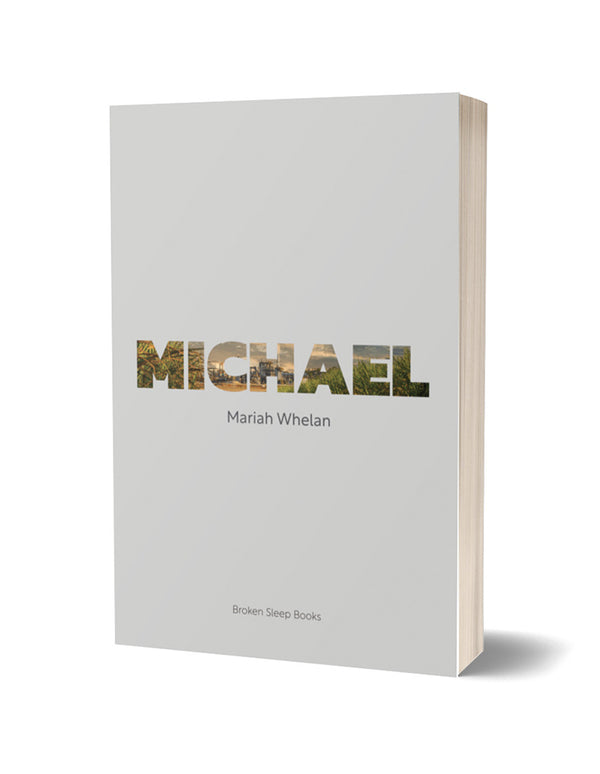 Michael by Mariah Whelan is a pamphlet-length poem that takes the form of a play. Set in a 'small town in northern England' and written with attention to the splatter of syllabic sound and a chorus of voices that 'move like water', Whelan's hybrid text recalls Ilya Kaminsky's The Deaf Republic and Dylan Thomas' celebrated Under Milk Wood. Musical and sometimes whimsical in the text's wry regard for the eponymous protagonist, Michael is a pamphlet about ghosts, grief, and longing for connection in post-Brexit Britain. 
PRAISE for Michael:
Subversive in its tenderness, and fiercely original, Michael is a clear-eyed fable of post-Brexit Britain. Opening where hills rise above the bowl of a valley, at one remove from dreaming townspeople, its world is Aldi shops, damp gortex and mist, sandwich factory workers, pubs with Estonian football, demonstrating crowds. Loosely tethered to a mutually-bewildered father and daughter, but frequently voiced by an ironic, watery chorus, Mariah Whelan has created an extraordinary space of deep play. Mobile as the shifting weathers, bodies unspool into language, or interleave themselves through the sedimenting of memory. Lyrical, heart-catching, and relentlessly inventive, Michael is an unmissable and thrilling read.
   — Alice Hiller, Bird of Winter
What's it like to haunt the life you're living now? If you could get outside of yourself would you like what you see? Can the words you impress upon your loved ones ever stand up to time? Mariah Whelan's Michael prompts these interrogations and more. At once garrulous and contemplative, this is a delicious reminder that the people we love are the most absurd and wonderful theatre we have.
   — Rishi Dastidar, Saffron Jack
As the diachronic layers of slate once brought to light by Michael open to reveal the perfect black fern, so the voices of Whelan's chorus show the intimate nestled within the epic, and forge a vivid portrait of this squalid moment they emerge from: the vexed politics of / contemporary England / Brexit. Out of the things we can't fix, the words we don't strain to hear, Whelan crafts a harrowing work of breathtaking lyricism. From the chasm between generations  Whelan mines questions of inheritance, memory and the sublimely dangerous and divisive power of language.
   — Nancy Campbell, The Library of Ice
Michael is a text to place into the hands of anyone whole cares about poetry, about the state of the country, about the nature of language. It is a text for anyone who feels. It is a text which came alive in my head, which created a whole theatrical immersive experience with no more than words on a page. It is a text which keeps growing and living beyond the limits of the page and your reading of it, which flows through you long after you have finished. 
   — Tom de Freston, Wreck
ABOUT Mariah Whelan:
Mariah Whelan is an award-winning poet living in Oxfordshire, UK. She is the author of the novel-in-sonnets the love i do to you which was shortlisted for the Poetry Book Awards, the Melita Hume Prize and won the A M Heath Prize. She is the Jacqueline Bardsley Poet-in-Residence at Homerton College, The University of Cambridge, a Fellow in Creative Practice at University College London and one of the founding editors of bath magg, a magazine of the very best new poetry from UK and international poets.
Broken Sleep Books
Join the Poetry Book Society for 25% off all books