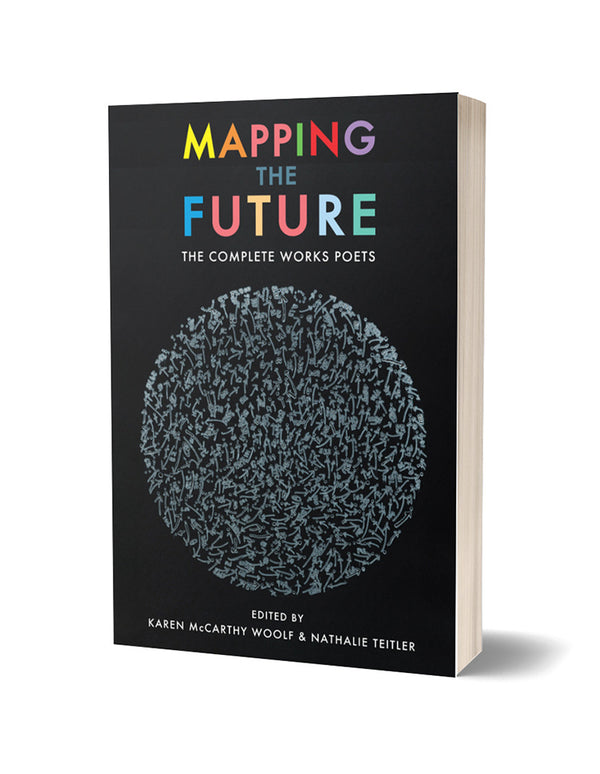 In 2008 the level of poets of colour published by major presses was less than 1%. In 2020 it was over 20%. The Complete Works Poetry - an initiative spearheaded by Booker Prize winner Bernardine Evaristo - played a significant role in this change.

Supporting 30 poets from 2008 through to 2020, The Complete Works produced an unprecedented number of prizewinners, including the Forward Prizes (3), T.S. Eliot Prize (2), Ted Hughes Award (2), Somerset Maugham Award, Dylan Thomas Prize, Rathbones Folio Prize and Sunday Times Young Writer of the Year Award. TCW Fellows have also gone on to judge every major poetry award, and to take on significant roles in academia and translation, publishing over 40 collections.

The Complete Works has become the most successful collective ever formed in British poetry. Mapping the Future offers new work by all 30 writers it has supported, including Warsan Shire, Raymond Antrobus, Mona Arshi, Roger Robinson, Inua Ellams, Malika Booker, Sarah Howe, Will Harris, Kayo Chingonyi, Jay Bernard, Yomi Sode and Karen McCarthy Woolf. It also includes fierce essays re-drawing the map of British poetry by 10 of the 30 poets, touching on the most significant topics of our time.

Mapping the Future is not just a magnificent anthology of some of the best UK poets, it is also an exploration on how poetry in Britain has become much more inclusive over the past 15 years: what has been won, and what is still being fought for. This anthology offers a timely insight into British poetry and how the voice of the 'other' continues to take centre-stage in pivotal times. Mapping the Future is edited by poet Karen McCarthy Woolf, editor of the second two Ten anthologies in The Complete Works series, with Dr Nathalie Teitler, director of The Complete Works.
Bloodaxe Books
Join the Poetry Book Society for 25% off all books