Manifestos by Vicente Huidobro, trans. by Tony Frazer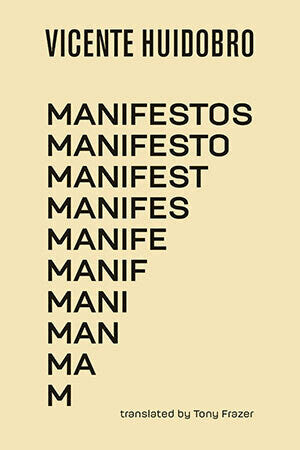 In 1925, Huidobro published this collection of manifestos to consolidate his position in the avant-garde in the face of the burgeoning new Surrealist movement and also as a reaction to attacks from one Spanish critic in particular, a member of the Ultraist movement, who seemed to want to establish the Spanish avant-garde as an independent force, free of the influence of this loud, self-confident Chilean. The book appeared in the same year that he published his last two collections of French poetry, one of which demonstrated Dadaist influences, and the other Surrealist influences.
1925 is therefore a watershed year for Huidobro, one where he experimented with new approaches and also tried to shore up his prominent position as the artistic tides were beginning to turn. Six years later, after some time back in Chile, and periods in Madrid, Paris and New York (where he had tried to get into the film world, and failed to do so because of the eruption of the talkies at a time when he was engaged in producing scripts for silent movies), Huidobro produced his two masterpieces, Altazor, written – the author claimed – between 1919 and 1930, and Temblor de cielo (Skyquake), written in 1928.
The other work written at this time, i.e. between the mid-1920s and the mid-1930s, was only to be collected in two volumes published in 1941, but it further reinforces the impression given by the 1931 publications, that Huidobro had reached his maturity after the Parisian apprenticeship. The manifestos should be read with some seriousness, but perhaps also with a tongue placed securely in the cheek.
Join the Poetry Book Society for 25% off all books