Making Tracks by Katy Wareham Morris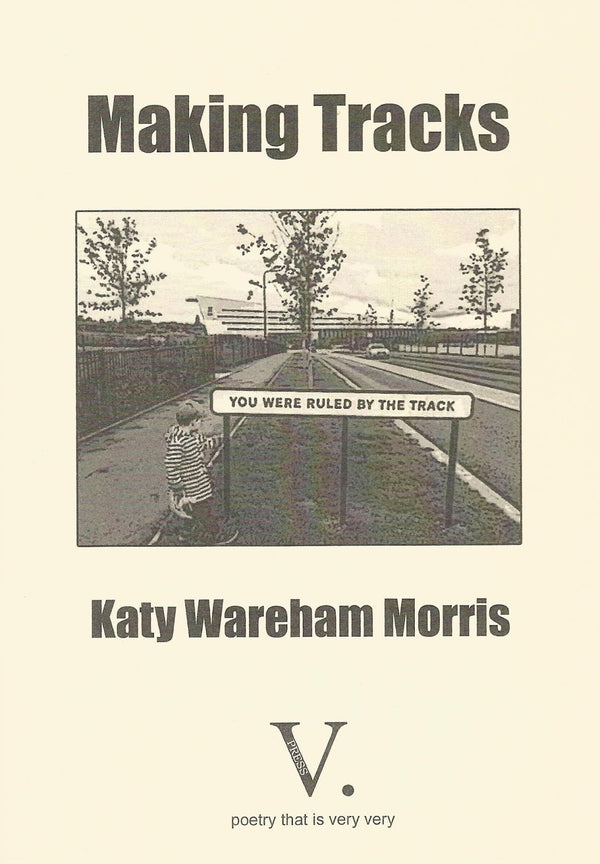 "From the very first page of this pamphlet, the reader encounters a voice which is entirely new. Within this pamphlet we find interrogations of masculinity, class, manual labour, what is and isn't inherited through different generations and, most excitingly, see how these different preoccupations can be refracted and reflected through language and the line.
"As there should be when searching for new ways to contemplate tradition, a fresh type of experimentation with language, its spacial arrangement and its breath, is given to the reader, but always with a solid and concrete centre of people and place. A balance is struck between the heart, and the search for a language, scientific or natural, which might be able to fully represent it. Poems such as 'You and Him: A Venn Diagram' give us a visual language for exploring the pamphlet's themes, and the pamphlet as a whole brings together the insertion of the urban and natural, the historical and the contemporary. An exciting new pamphlet from a poet doing important new things with the art."
Andrew McMillan
"
Making Tracks
 uses the texture of language and collaged fragments to celebrate those people who worked at the now defunct Longbridge car factory.  Wareham Morris's father is the beating heart at the centre of these poems, it's whose voice we hear, entrusted to her tender keeping.  There is the melancholy of a way of life gone here, but also the love of a day's work and the satisfaction of a job well done."
Helen Ivory
By design, 
Making Tracks
 is very dutiful, yet very fallible.
Join the Poetry Book Society for 25% off all books