Magnolia, 木蘭 by Nina Mingya Powles
PBS Autumn Recommendation 2020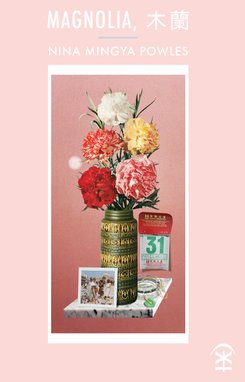 Magnolia, 木蘭, Nina Mingya Powles' first full collection, dwells within the tender, shifting borderland between languages, and between poetic forms, to examine the shape and texture of memories, of myths, and of a mixed-race girlhood.
Abundant with multiplicities, these poems find profound, distinctive joy in sensory nourishment – in the sharing of food, in the recounting of memoirs, or vividly within nature. This is a poetry deeply attuned to the possibilities within layers of written, spoken and inherited words. A journal of sound, colour, rain and light, these poems also wield their own precise and radical power to name and reclaim, draw afresh their own bold lines. 
Praise for Magnolia, 木蘭

"Magnolia 木蘭 reads, among other things, like a gorgeous love letter to Shanghai. This collection pays homage to all that the five senses might evoke, with a particular attention to the myriad of memories our taste buds conjure up through food and ritual. Other poems turn their piercing attention to language, to the various tongues that allow one to comprehend the multitudinous world: English, Mandarin Chinese, Hakka, Māori. Iconic figures in Chinese history and culture such as Hua Mulan, Zhang Ailing and Maggie Cheung also make an appearance in this complex and multi-layered collection, as Nina Mingya Powles tenderly explores her mixed Malaysian-Chinese heritage and enduring ties to New Zealand." – Mary Jean Chan
"This is a book bursting with food and flowers and colour, but is it not always beautiful. Reading this book, my focus shifts to certain questions like, how long must we, women of the diaspora, stuff ourselves until we are not hungry, or lonely? And, even if we learn to name ourselves in our 'more difficult language', and point to the things around us, name them beautiful, will it mean that they will stay beautiful?" - Rachel Long
Join the Poetry Book Society for 25% off all books