Love Poems from a Frangipani Garden by Ramya Chamalie Jirasinghe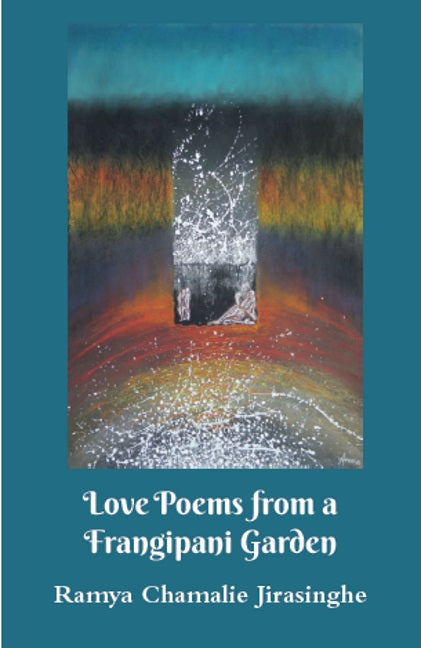 Ramya has written poetry, a few books of non-fiction, more than a few feature and op-ed pieces for newspapers, a sprinkling of food reviews, some copy for advertisements and even a dissertation. Her first collection of poems, There's an Island in the Bone, won the 2011 Sri Lanka State Literary Joint Award. Ramya was a joint runner-up to the Guardian Orange First Words Prize, UK, 2009. The Times of London featured her in its 2009 selection of Contemporary War Poetry from the Front Line. Shortlisted for the Gratiaen Prize (established by Michael Ondaatje for creative writing in English in Sri Lanka) in 1998 and 2008, Ramya lives in Colombo. 

"Elemental forces suffuse the poems as she charts the power of love and cycle of life in a tropical landscape." 

The sensuous imagery and courageous protest are at the service of a moral mind. In this new collection, the poet's concerns have been altered by 'that other one / who may turn out lover or scorching sun'. But a romantic meeting is not the book's entire theme. True, 'the body's / sinuous trail of / rising desire' runs through the book, with its garden in the city, like water. The poet asks what will be left of all this experience, in the end? Seeking to answer that she imagines migrant refugees in the Mediterranean and villagers after a tsunami, memorialises her father in his life crossing the river into which she is scattering his ashes, narrates the lifelong actions of a simple villager drawing water from a well, visits the caves of Buddhas or gods, and although 'There are places that will / Never be known to us / The deepest recesses / That we'll refuse to enter', although a lover may betray and the flowers of the garden are scattered, the poet attempts to - perhaps does - find deliverance in kindness, the end of illusion, and the recovery of love in song. 
Join the Poetry Book Society for 25% off all books