Love Minus Love by Wayne Holloway-Smith
PBS Summer Wild Card 2020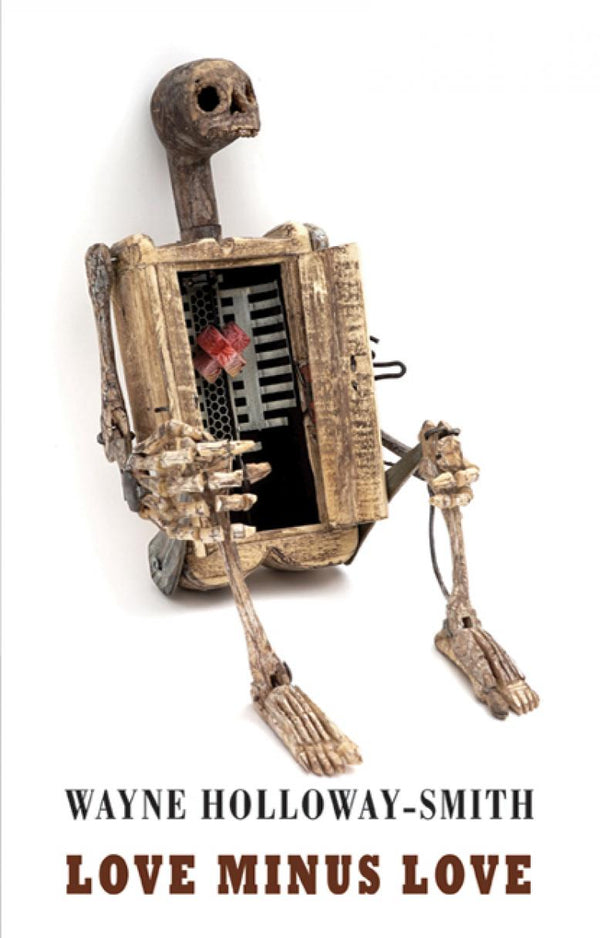 Wayne Holloway-Smith's second book-length book of poetry, Love Minus Love, is an internal universe, fragmented and glued back together with uncanny logic. A strange layering of time, in which multiple things happen at once, in a looping track of intrusive thoughts – shot through with dead cows, pop songs, dead dads, the white noise of televisions – rotten teeth are raining everywhere. Somewhere at the core of all this, the seemingly fixed boundaries of masculinity, family, trauma and mental health are blurred towards a new type of vinegary identity, in a pitch of emotional intensity that punches you right in the gut.

'I rejoice in Wayne Holloway-Smith's poems, and I miss them when I'm not reading them. Love Minus Love is a gorgeous painful classic of the Dead Dad genre, and the We Are All Meat genre and the Re-Building Mum genre. It is a beautiful tapestry-album of boy agony, wit and honesty, punctuated by devastating in-parentheses-bildungsromans. It's unforgettably brilliant.' – Max Porter
'Exciting, excoriating, gorgeous, appalling, and eye-wateringly honest. Wayne Holloway-Smith's poems are blisteringly beautiful, and probe at a siege-like nucleus of familial harm. Histories of abuse, hurt and disease are confronted and dissected in all their messy, meaty complexity, but always with love, always with hope and a sweet, sweet tenderness. One of the truest poets writing today.' – Fiona Benson 
Wayne Holloway-Smith's debut collection Alarum was shortlisted for the Seamus Heaney Centre for Poetry Prize and the Roehampton Poetry Prize as well as being a Poetry Book Society Wild Card Choice. His poem 'the posh mums are dancing in the square' – included in Love Minus Love – won first prize in the Poetry Society's 2018 National Poetry Competition.
'A vital book about working class identity.' – Andrew McMillan on Alarum, his Winter Guest Selection for the Winter 2017 PBS Bulletin, on Alarum
'Alarum is enviably good... Hilarious and witty, it's also terrifically sad, but wears its tragedy so lightly at first it's hard to notice.' – John Challis, The Poetry School
'Witty, modern and remarkably original, Alarum shows us what contemporary poetry can be and where it can go.' – Jennifer Wong, The Poetry Review
Join the Poetry Book Society for 25% off all books