Liquid Crystal Lovesick Demon by Poppy Cockburn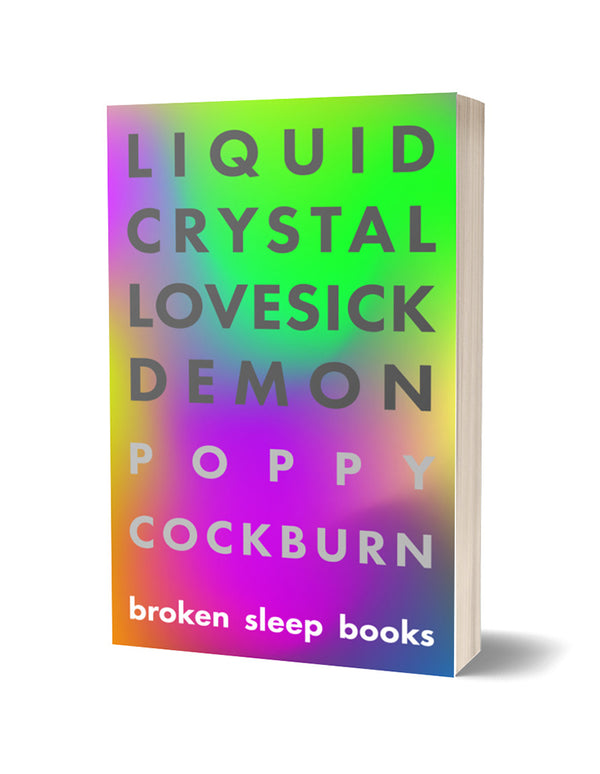 Titled after a popular Instagram filter, Liquid Crystal Lovesick Demon by Poppy Cockburn draws on multimedia aesthetics to consider the ways our progressing post internet reality can complexify, unite and alienate. Touching on film, social media, news coverage and marketing, these dynamic, decadent poems revel in contemporary dystopia, slyly poking fun at and probing the dark heart of the malaise.
PRAISE for Liquid Crystal Lovesick Demon:
If being alive right now is the condition of being incommensurate to all the ways we are observed by ourselves and others, then reading and re-reading Liquid Crystal Lovesick Demon one is drawn to a singular conclusion: here are poems that return the gaze. They dissect it, fetishise it, paint it upon landscapes both expansive and intimate and, with glittering willingness, draw us towards reassembling ourselves among the crystal remnants of having been watched. Managing to be at once surreal and emotionally precise, hilarious and swooning, Poppy Cockburn is an expert navigator of our distracted desires, minor-key awakenings and incidental love, all this weird and essential matter of poetry.'
   — Mau Baiocco, The Resting Acrobats
ABOUT Poppy Cockburn:
Poppy Cockburn is a Margate-based writer and communications professional working in the arts. This is her fourth pamphlet of poetry.
Join the Poetry Book Society for 25% off all books