Landsick by Genevieve Carver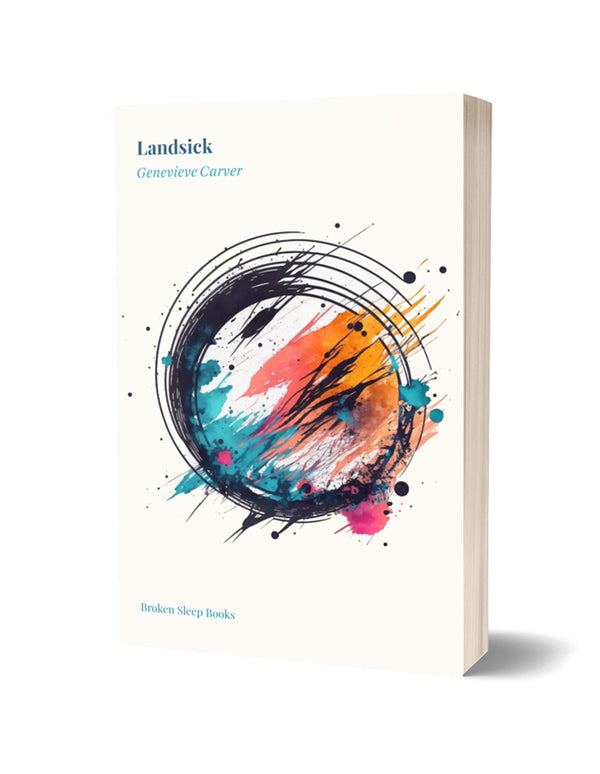 Landsick inverts the idea of seasickness – in this pamphlet it is the lives we lead on land that are unstable, uncertain and often nauseous, while the ocean's rhythm provides moments of solace, rest or hope. In exploring this inversion, Landsick engages with the wider theme of connectivity and discord between humans and the natural world. This a book that embraces the beauty and joys of the natural world, while also reflecting on the perils and complexities of human life, and takes us 'all the way to the bottom of the deep blue sea'.
PRAISE for Genevieve Carver:
Carver joyrides the nature poem through weird and wonderful territories – grunions collectivize, a plastic whale finds its voice and love swells 'the pockets of the bladderwrack'. Attentive, funny and emboldening, Landsick will reorient you.
   — Isabel Galleymore, Significant Other
Deeply funny and very sad at the same time...the ironic and the tender are perfectly fused, and formal innovations are cleverly tethered to meaning.
   — Max Porter, Lanny
ABOUT Genevieve Carver:
Genevieve Carver is a landlocked writer interested in connectivity and discord between human and non-human worlds. Her poetry has been published in journals including Mslexia, The White Review, The North, The London Magazine, Magma, and Poetry News, and she won The Moth Nature Writing Prize in 2022, judged by Max Porter. Her first collection, A Beautiful Way to be Crazy (Verve Poetry Press), was based on her gig theatre show with a live band celebrating female experiences in the music industry; Landsick is her second poetry publication.
Broken Sleep Books
Join the Poetry Book Society for 25% off all books