Kierkegaard's Cupboard by Marianne Burton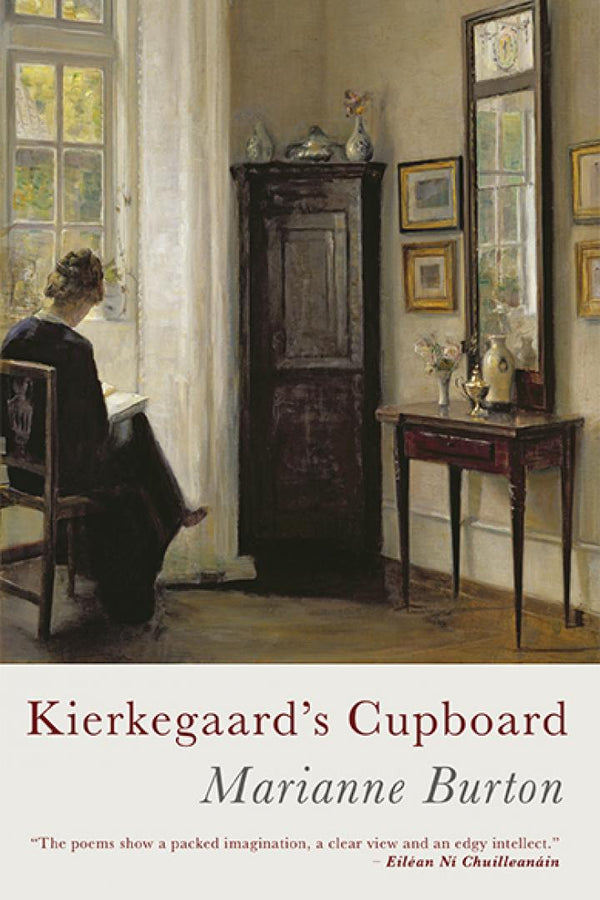 The life of the influential Danish philosopher Søren Kierkegaard has inspired this book of poems by Marianne Burton.

Burton, whose debut collection, She Inserts The Key, was nominated for the Forward Prize, has delved closely into the extensive writings both by and about Kierkegaard. She has distilled this knowledge into a sharp, lively and intriguing series of poems, all variations of the 14-line sonnet, written in the first person, so that we seem to hear the voice of the philosopher in all of the moods which characterize the various periods of his life.

In the first section, we have hints of Kierkegaard's childhood, with a darkly melancholic father whose sins '…were blight /to our lives but to my work they are foundation', pointing to Kierkegaard's inherited sense of religious guilt, also a paradoxical and contradictory 'school report' that pronounces the student as 'the most provoking and the least serious.' We encounter Kierkegaard's peculiar mix of the comedic with deep introspection and meet 'Uncle Søren' who delights in spoiling his nephews and nieces and talking to people in the street. These contradictory tendencies arise again and again and give the collection an enticing tension. We are never quite sure which Kierkegaard we will be meeting.

In section two we arrive at one of the central incidents of Kierkegaard's life. He meets Regine, a beautiful 18-year-old girl, and they fall in love. After a blissful interlude they plan to marry, but Kierkegaard abruptly cuts off the engagement, having come to the conclusion that marriage is not for him, that he must dedicate himself to the life of the mind. A few years later, Regine marries and Kierkegaard is forced to acknowledge that his choice is irreversible. However, he remains so dedicated to Regine that he commissions a special cabinet, the 'Cupboard' of the title, where he places all correspondence and mementoes of their relationship. Each of the sonnets in this section devote themselves to the sad adventure of this heartbreak.

The third section is more directly involved with Kierkegaard's writings: Either/Or, a novel he wrote concerning seduction and marriage, and Fear and Trembling, a close look at the Biblical story where Abraham is asked to sacrifice his son Isaac. Burton's emphasis is on how these stories relate to Kierkegaard's own life. The sonnet forms here, with their pointed brevity and tight rhymes, encapsulate themes well and Burton uses them with a wonderful élan.

The fourth section, 'After The Corsair' involves a period of the philosopher's life when his fame caused him to be caricatured by the press and mocked in the streets. He tries to write to Regine, but is rebuffed by her husband, and is left without a reply. The fifth and sixth sections examine the end of Kierkegaard's life when he began an intense attack on the Danish Lutheran Church for being too materialistic, intrusive, and overly state-controlled. Burton also includes poems from Kierkegaard's thoughtful and compassionate correspondence with relatives suffering poor health and depression. Kierkegaard died relatively young, at 42, physically, mentally and financially exhausted by his dedication to work. The impression Burton leaves us with is of a personality gifted with wit and joy as well as a fervent vocation to express his ideas.

Graceful, thought-filled, astute, musical, these accessible poems by Marianne Burton inspired by Søren Kierkegaard will please discerning readers.
Join the Poetry Book Society for 25% off all books