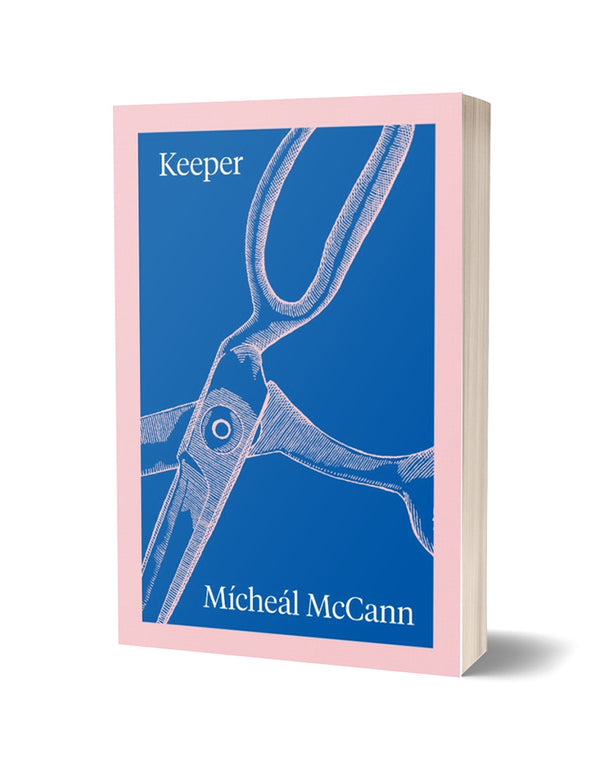 The poems in Keeper are by turns sunlit and rain-drenched, tender and elemental, bracing and embracing. Each poem sparkles on the flood of time, blissing in sudden spiritual moments, worked with a playful vision of beauty. Mícheál McCann is a poet of wise, exalting attention: his is a fresh and refreshing new voice in queer poetry.
Seán Hewitt, author of Tongues of Fire and All Down Darkness Wide
Mícheál McCann writes some of the most beautiful imagery I have come across in poetry. I was bowled over by the generosity of these poems, felt a physical response towards McCann's poetics of longing, acceptance, and ultimately of safety in Keeper's act of both individual humanity and togetherness. These poems are slyly laced with humour and sexuality, beckoning you to wade into them, smiling. The occasion of new work from Mícheál McCann is naturally a cause for celebration, and Keeper is exactly that – poems to carry inside you.
Peter Scalpello, author of Limbic
I felt the charm and magic of Keeper, its gentle enquiry, its tenderness. Felt every line. Full of admiration for Mícheál McCann's quietly life-affirming work.
Niven Govinden, author of Diary of a Film
McCann is a tender, observant rememberer in whose work togetherness tangles with distance. Togetherness wins. From outset to ouch, this gentle, well-wrought book accompanies us through little things; yet has the courage to come face to face with the sudden immensities that stripe the everyday with surreality. A muddy field gasps with eroticism. A father is helpless foreseeing pain he cannot prevent. Sleep is close to death, but also to lovers and neighbours. The wordcraft of these strong, amused, and tender poems will hold you the way an otter holds its favourite pebble to its heart, lying on its furred and musky back, and playing as if the stream of the present were forever, playing hard while loss whisks just around the corner.
Vahni Anthony Capildeo, author of Like a Tree, Walking
We're so excited to release Mícheál McCann's new pamphlet. Keeper is a collection of poems to treasure; loss, love, longing thread through as he tackles the big issues of queerness, family, grief and relationships.
Mícheál McCann is from Derry, Northern Ireland and the author of the poetry pamphlet Safe Home (Green Bottle Press, 2020).
His poems have appeared or are forthcoming in Poetry Ireland Review, Queering the Green, The Manchester Review, Banshee Lit, Ambit, The Tangerine, and The New Frontier: Contemporary Writing From & About the Irish Border.​
fourteen publishing
Join the Poetry Book Society for 25% off all books