It's About Time by Lesley Storm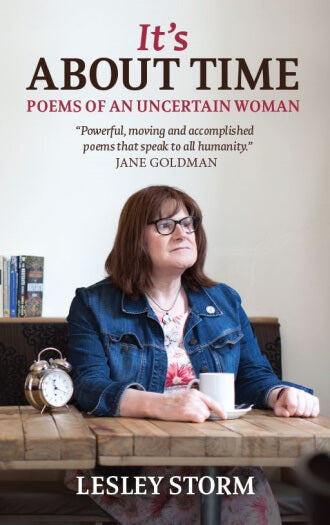 "I'm a woman. I support them. I'm bisexual. I support them. I'm a feminist. I support them. I endure regular abuse for being trans. I support them. I am called a "poof" by the unenlightened. I support them. My name is Lesley, and I'm a woman ― that is to say that I am human, just like you, and you like me."
 A meditation on the passing of time, a declaration that life, love and poetry are defined by time, are all about time and timing.
Here are love poems, life poems, elegies, aubades, odes, existential solitude poems, prose poems, joyous poems of fleeting human pleasures, poems compassionate, sanguine and witty, poems delicate with vulnerability, urgent poems on survival over time.
These are powerful, moving and accomplished poems that speak to all humanity, written by a certain woman documenting her uncertain becomings over time.
Whatever the certainties of those enforcing it or of those of us willingly or unwillingly defined by it, the category 'woman' has always been uncertain. 
'One is not born a woman', Simone de Beauvoir observes, 'one becomes one'.
But what is it to be deeply certain of an urgent calling to womanhood all of one's life yet violently excluded from such a becoming?
What is it to win through?
Join the Poetry Book Society for 25% off all books