Is That All There Is? by Margaret Eddershaw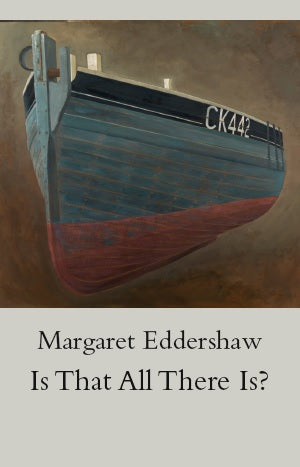 Poetry that lets us experience 'the round Earth's imagined corners' in the daily renewed light of a mind as alive to beauty as to suffering, bringing distant lives closer and reaching lightly into the deep heart of things.
Margaret Eddershaw writes: 
Between the ages of 5 and 50, I pursued my passion for theatrical performance. Most of the poetry I enjoyed then was Shakespearean, though I also read Maya Angelou, Elizabeth Bishop, T.S. Eliot, Seamus Heaney, and Ted Hughes. I wrote plays but not poems. Following the murder of my sister in 1995, I began writing poems to and about her – a cliché, I know, but it was a good part of my grieving process. I then continued to develop an interest in  writing poetry, devouring the work of many contemporary poets, as a way of learning a new  craft. Inevitably, perhaps, my theatre background began to influence my poems, so that many of them comment on or are 'in the voices' of people (characters) that I have encountered. 
Reviews of Margaret Eddershaw's previous book 
Catching Light
, (Poetry Space 2013): 
'Margaret lives abroad and has travelled extensively, and she has focused her acute powers of observation to write poems both moving and funny in turns…. No matter where her poems are set, what shines through in each one is a strongly-held sense of our common humanity, and an awareness of the beauty of our shared world.' - Jo Waterworth 
'Margaret Eddershaw's collection is a tour-de-force, multi-faceted and generous, and refreshingly original in her choice of image and juxtapositions. Stylistically adventurous, Eddershaw takes us on journeys into other cultures, other voices, in poems resonant with feeling.' - Katherine Gallagher
Join the Poetry Book Society for 25% off all books