In Person: World Poets by Neil Astley & Pamela Roberston-Pearce (eds.)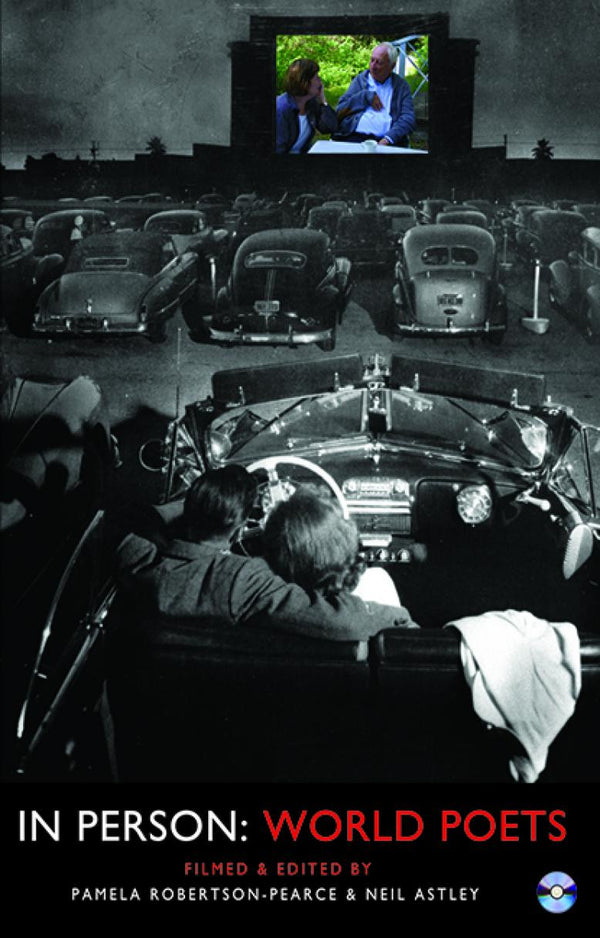 In 2008, Bloodaxe published the world's first DVD-anthology, In Person: 30 Poets, a new concept in publishing: readings by 30 poets published by Bloodaxe in its first 30 years captured on film, with all the poems included in the footage printed in the book of the films.
Its sequel, In Person: World Poets, is an even more international collaboration between Bloodaxe Books and award-winning film-maker Pamela Robertson-Pearce. Her style of filming combines directness and simplicity, sensitivity and warmth – the perfect combination for these intimate readings. It is as if the poet were sitting in the room with you, reading just to you, and sometimes saying a few things about the poems.
This new compilation on DVD with accompanying anthology covers twice as many poets from many more parts of the world, including Albania, Australia, Brazil, Canada, Denmark, Estonia, Finland, India, Italy, Jamaica, Korea, Kurdistan, Lithuania, Macedonia, Malawi, the Netherlands, Pakistan, Poland, Romania, Sweden and the USA, as well as from Britain and Ireland. It also includes some longer features giving more context to the poet's work, most notably the films of Robert Adamson and Ruth Stone.
Most of the films present informal, one-to-one readings, with the poets reading to you in person. They enhance your appreciation of the poetry. You hear how the poems sound; you see how the poets read and present their work. Poets writing in other languages read in the original with the English translations read by themselves or by their translators or given as subtitles. Some poets are also captured in live performance.
T.S. Eliot once described poetry as 'one person talking to another', while W.H. Auden believed it was essential to hear poetry read aloud, for 'no poem, which when mastered, is not better heard than read is good poetry'. In Person: World Poets presents the oral art of poetry in that spirit.
There are over 14 hours of readings on four DVDs packaged with the book, and all the poems included in the films are printed in the book, with poems written in other languages alongside the translations, enabling you to follow either language as they are read on the film. Like the original In Person: 30 Poets, this new compilation gives readers a personal festival of poetry in DVD and book form for viewing at home on laptop or TV. It is also a unique educational resource for the teaching and appreciation of poetry.
In Person: World Poets includes: Robert Adamson, Moniza Alvi, Antonella Anedda, Simon Armitage, Ana Blandiana, Jean 'Binta' Breeze, Dan Chiasson, Polly Clark, Stewart Conn, Peter Didsbury, Katie Donovan, Tishani Doshi, Ruth Fainlight, Roy Fisher, Carolyn Forché, Tua Forsström, Tess Gallagher, Deborah Garrison, Jane Griffiths, Philip Gross, Choman Hardi, Robert Hass, John Hegley, Rita Ann Higgins, Tony Hoagland, Matthew Hollis, Esther Jansma, Jenny Joseph, Jaan Kaplinski, Ko Un, Luljeta Lleshanaku, Thomas Lux, Nikola Madzirov, Jennifer Maiden, Jack Mapanje, Samuel Menashe, Esther Morgan, Julie O'Callaghan, Leanne O'Sullivan, Clare Pollard, Adélia Prado, Sally Read, Lawrence Sail, Carole Satyamurti, Karen Solie, Piotr Sommer, Ruth Stone, Arundhathi Subramaniam, Matthew Sweeney, Pia Tafdrup, Tomas Tranströmer, Brian Turner, Chase Twichell, Priscila Uppal, Tomas Venclova, Mark Waldron, Susan Wicks and Robert Wrigley. None of these poets was included in In Person: 30 Poets.
Reviews of In Person: 30 Poets:
'A groundbreaking multimedia project to mark Bloodaxe's 30th birthday impresses Frances Leviston...' 'There really is something for everyone: the cutting and cut-up satire of Peter Reading, John Agard's hymns to diversity, Selima Hill's funny, frightening trawls through the unconscious... Audio-visual recordings are rare indeed, and the In Person DVDs offer an unprecedented wealth of footage... Here is CK Williams, reading a sinuous, shocking piece like "The Gaffe" with tone and timing so perfect you wonder if you ever understood it before. James Berry's assumed patois when he reads "Defendant in a Jamaican Court" brings the voice - "Yes I did chop him, sar" - into terrible life. The excellent Naomi Shihab Nye perches on a staircase, as if to emphasise her poems' gentle refusal of existing phrases, existing positions, her eyebrows dancing between puzzlement and knowledge, and says slowly: "I missed the day / when it was said / others should not have / certain weapons, but we could." There are studious, intense readings by Maura Dooley and Philip Levine, generous, warm performances from Imtiaz Dharker and Menna Elfyn, and WN Herbert singing the entirety of "Bad Shaman Blues". It is an exhilarating, fascinating six hours, rounded off by a special short of Ken Smith frying breakfast in his kitchen, then reading "Three Docklands fragments" against a display of the wooden masks he used to make.' - Frances Leviston, The Guardian.
'What makes In Person so exceptional is that the book is accompanied by two DVDs, containing six hours of the poets reading all the poems in the collection. Such is its impact that it is impossible to imagine that it has never been done before... What Astley and Robertson-Pearce have created for poetry readers is an opportunity to witness some of the most important poets in the English language giving voice to their own work... Disseminating poetry through this free-wheeling, 21st-century medium feels revolutionary, and yet this decision to incorporate the ever-changing present fits with the impetus to forge something of historical worth...readings from poets as diverse as Fleur Adcock, James Berry, Taha Muhammad Ali and Galway Kinnell are testimony to this extraordinary archival value. The written word winds through their varying accents and rhythms, with many poems read in two languages to give the reader a true sense of the sonic beauty inherent in the work in its original tongue. It is a gift to poetry lovers on the birthday of one of their most beloved publishing houses, with Bloodaxe's 30 extraordinary years celebrated through these 30 extraordinary voices... With its international launch taking place in Dublin today, In Person is testimony to the human voice that is poetry, a fitting celebration of an art that has reflected and shaped human experience since the birth of language, and a publishing house that is helping to make it heard.' - Fiona McCann, The Irish Times.
Join the Poetry Book Society for 25% off all books