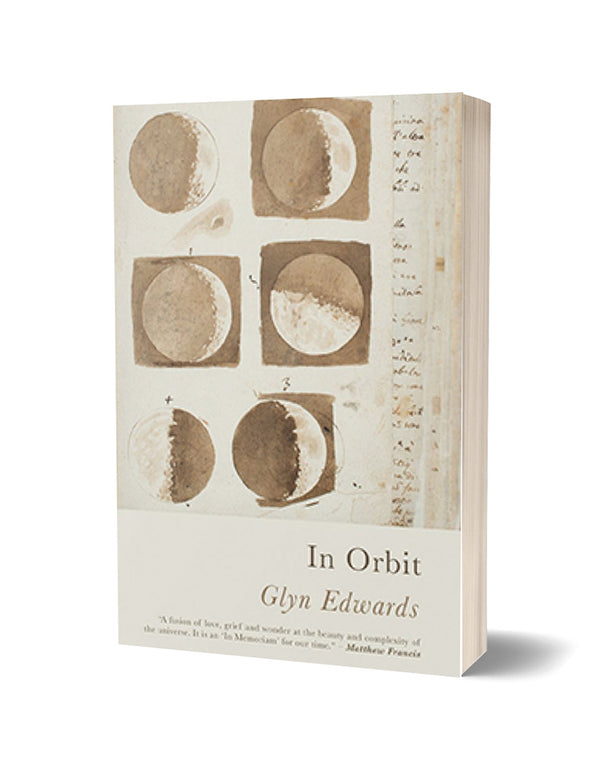 On receiving news of a beloved teacher's death, a man struggles with the loss of a relationship sustained by deep admiration and unrequited love. Memories of their shared journey are separated in three orbits where the man's past, present, and future are punctuated by intense grief.
In Orbit uses a variety of innovative forms to explore loss, from traditional stanzas to prose poems to shaped poems in the form of birds, circuits, or hands. The narrative shifts in time, moving from his teen years to the present day when he himself has become a teacher, working alongside the man he mourns.
The book not only grieves the loss of the teacher, but also toxic standards for boys and men. Beyond human connection, sustenance is found in the moon, the stars, the sky, and nature. The discovery of a badger's track or the treasure of a bird egg reminds us how small our trajectories are in the context of the more-than-human: an answer perhaps to the grieving process. In Orbit is a deeply moving account of love, longing, and loss.
"These poems are deep draughts of experience, rendered in a way that nothing in our age of rapid and simplistic judgments can do half as well as poetry." – Philip Gross
"Our expanding perception of the universe pervades 'in orbit', illuminating its "diurnal courses" of love and longing." – Paul Henry
"Each poem becomes a point of illumination in a constellation of grief. The numbness of regret is present in each line, as small human acts and tokens – a fingernail, an ellipse, a closed coffin – are consistently set against the immeasurable emptiness of space." – Mark Pajak        
"Grief, loss and the haunting power of memory are some of the themes deftly explored in this open and vulnerable collection. A skilful, impassioned dive into both the pain and comforts of nostalgia, In Orbit weaves its ideas into elaborate shape poems, zooming out to behold Venus before closing in on a dead starling, urging us to lean in closer 'until your mourning makes it fly.'" – Matthew Haigh
Seren
Join the Poetry Book Society for 25% off all books