Hollywood or Home by Kathryn Gray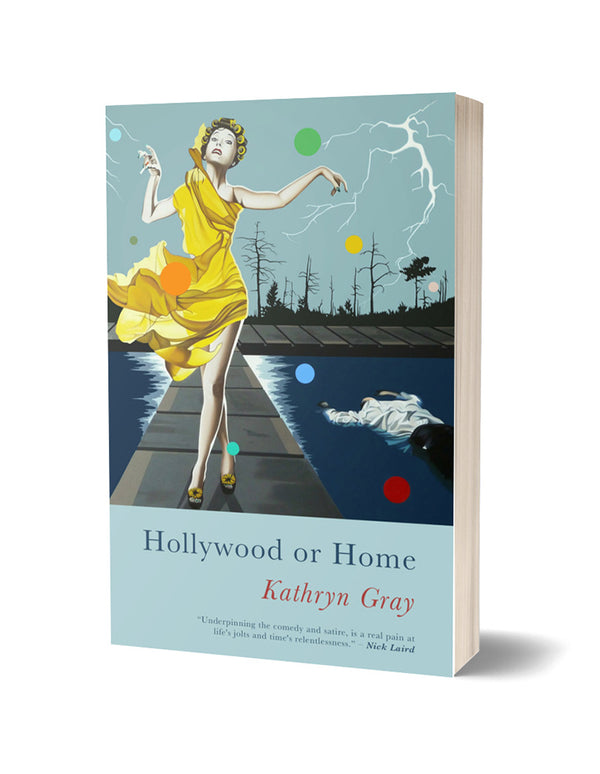 Welcome to Kathryn Gray's Hollywood or Home, a poetry collection with as much ruthless glamour as any Old Hollywood movie. These worldly-wise poems explore celebrity culture in a mode that is both seriously playful and playfully serious. Here, melancholy and humour, irony and sincerity can be often found in the same poem, creating a rich experience for the film buff or fan of celebrity culture, as the book is full of easter eggs and movie references.

Spectres of Hollywood haunt the collection: moguls, politicians, starlets, and monsters. They leap from screen and stage to page, as in 'Portrait of my Superego as Mommie Dearest': 'you're / the one swinging the axe, Mommie'. Famous actors drop in to entertain, for example in 'Meryl Streep is my Therapist' or 'Six Ways of Looking at John Cazale', while writers do their best to pitch their best ideas, working hard to convince: 'It's "relatable".

/ It's really "relatable" stuff' ('High-concept'). Film memorabilia is explored, like The Deer Hunter's bandana, as well as movie-business secrets: the title of 'As told by Alan Smithee' refers to the alter ego that directors use in movie credits when they want to disown their films. Stock characters and plots show up, like the 'Handome Weeping Boy', and 'The Meet-Cute', that scene in a romantic comedy where a couple have a first hilarious or 'cute' meeting.

Classic 1980s movies like Pretty in Pink and Top Gun make their cameos. Power couples take their place, like Frank Sinatra and Ava Gardner in 'Night and Day, 1957', and melodrama heightens to Douglas Sirk's grand levels in 'Love'. All the stories and characters loom larger than life, and as the narrator asks, contemplating celebrity Tweets in 'Fresh Hell', 'Why can't life be EVERYTHING IN CAPS LIKE CHER?'.

In decadent celebrity culture, where a star is born every minute and becomes a flop even more quickly, these fierce and funny poems open space for the writer to reassess failures and successes, to overcome writer's block, and to remember that we never stop longing for our old dreams to come true. Gray is writing at the top of her game with her much-anticipated second collection. Out of Hollywood's brutal disdain for failure, Gray manages to find spectacle - and survival.
Seren
Join the Poetry Book Society for 25% off all books