High Desert by André Naffis-Sahely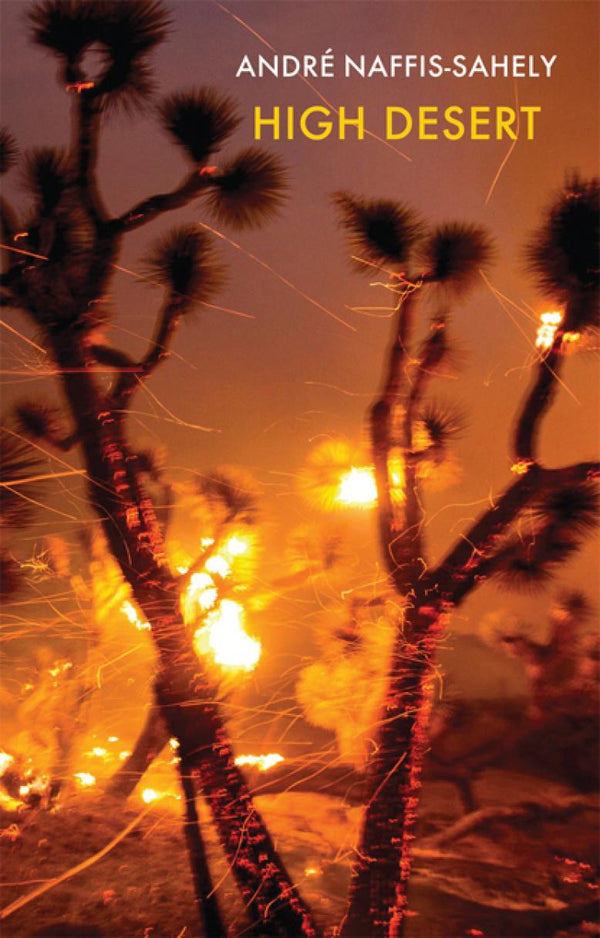 High Desert is a psychedelic journal of end-times and an ode to the American Southwest. Exploring such key events as the First Red Scare, the Tulsa Race Massacre and the West Coast's wildfire epidemic, Naffis-Sahely's reflections on class, race, and nationalism chart the region's hidden histories from the Spanish Colonial Era to the recent pandemic. The poems in High Desert also revel in their rootlessness, as the author shifts his gaze outside of the US, travelling from Venice and Florence to Chittagong and St Petersburg, tackling our turbulent times and the depths of its problems in searing, extraordinary poems of witness and vision.

High Desert is André Naffis-Sahely's second collection, following his debut The Promised Land: Poems from Itinerant Life (Penguin Books, 2017), a gathering of portraits of promised lands and those who go in search of them: travellers, labourers, dreamers; the hopeful and the dispossessed. It includes poems from his recent pamphlet The Other Side of Nowhere (Rough Trade Books, 2019). All his collections present poetry as reportage, as much an act of memory as of sinuous, clear-eyed vision.
'Naffis-Sahely's desert is a space for reckoning. Not many poets have the courage to begin a book with a poem titled 'The Last Communist', in praise of a wounded and much-needed, though endangered species of thinker and doer in these acquisitive times. He reminds us of the work that poetry can do when properly deployed.' – Fred D'Aguiar
'André Naffis-Sahely's High Desert radically presents an intensive record of capitalism's complex forms of local and global enslavements, each poem skillfully and precisely formed, emotionally charged, and morally infused with an acute sense of justice. High Desert places Naffis-Sahely among our most indispensable poets, those who, throughout history, testify to the truths of poetry against the lies of violent, destructive, corrupt, oligarchic power." – Lawrence Joseph, author of A Certain Clarity: Selected Poems (FSG, 2020).
'Naffis-Sahely's poems usher the reader in to a world of reversals and risk... His narratives hold memory to account.' – David Harsent on The Promised Land
'I much admired André Naffis-Sahely's sharp meditations on our vast but remarkably homogeneous global landscape.' – Pankaj Mishra on The Promised Land
'A poetry of things and people, as solid and realised and unforgettable as any of Kris Kristofferson's band of drifters, juiceheads and lost souls.' – John Clegg on The Other Side of Nowhere
'Naffis-Sahely's best poems are born of alienation and confusion, of an attempt to make sense of some new set of – usually lowered – circumstances. […] His cosmopolitanism is neither idealized nor fetishised.' – Declan Ryan on The Other Side of Nowhere
André Naffis-Sahely is a poet, editor and translator, and editor of Poetry London. He is a Visiting Teaching Fellow at the Manchester Writing School in the UK, and a Lecturer at University of California, Davis, in the US.
Join the Poetry Book Society for 25% off all books