Hierarchy of Needs: A Retelling by Charley Barnes and Claire Walker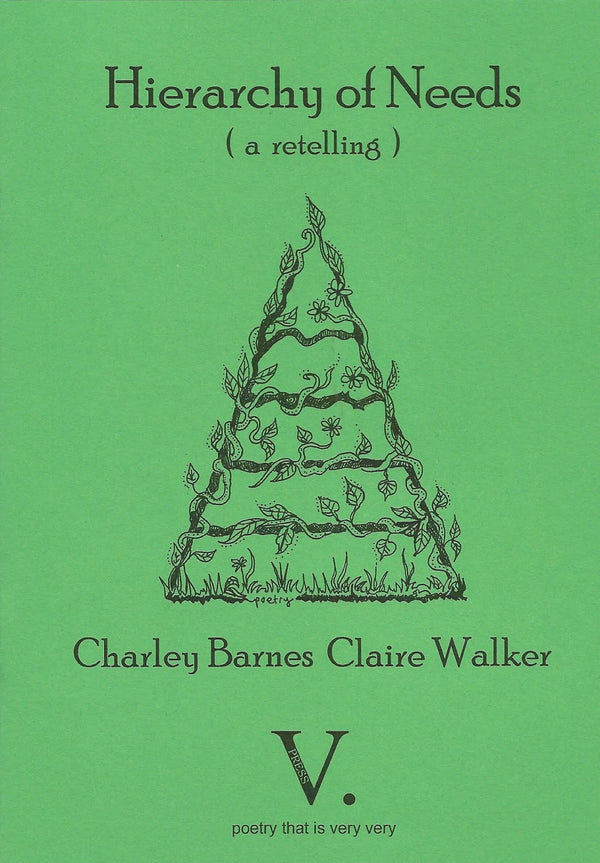 "This pamphlet is a reminder of the extraordinary paradoxes and dualities cultivated between the shaky coexistence of the natural world within the Anthropocene. We are drawn into other-worldly ecologies populated by 'giddy' 'warriors' 'fenced in (for freedom)' and 'giants, balancing on toes'; yet also confronted with the harsh and tangible realities that confirm the mortal fragility of our environments, even those we create for ourselves through technology.  There is adept writing skill evident in these poems: fresh anthropomorphic voices propagate amongst lyrical lines that converge with direct, demanding declaratives; violent vivid images give way to mellow half-rhymes and assonance; form is executed with precision and also reworked into affecting challenge and experiment. Here lies the adroitness of a pamphlet that moves like rhizomes – with purpose, poise and intelligence.
"Re-working nature's contradictions and vulnerabilities, and ultimately its needs and desires with this resolute energy, offers a striking parallel: as women writers we might be seen, but not always heard. For me then, this pamphlet is more than just an excellent example of eco-poetry; it is a sophisticated and spirited example of eco-feminism. This is a Mother Earth who nurtures, protects, provides but is also 'bounty hunter' with unmistakable, fierce needs of her own: unapologetically pursued and satisfied. 'Something beautiful'." - 
Katy Wareham Morris
"We do not exist without nature, though more and more these days, we seem to be expected to. In this book, Abraham Maslow's hierarchy of needs theory is used as a narrative to consider the entwining of both nature's and our own human needs. The book is split into two sections, each headed with its own recreations of the original five-layered hierarchical pyramid. They feel like a catechism – questions that we must keep on asking ourselves.
"The poems are each beautiful and spared from unnecessary clutter – there is such gentleness and consideration to be gained from the reading. Nature is personified and within the poems there is an aching, a longing to be freed from our human bonds – to be able to answer the age-old call of the seasons without our interference.
"Some of the poems writhe with wonderful touches of the fairy tale. Some express nature's desire to work in harmony with us as it did in days long past. Some stand in stark contrast to our modern, technology reliant world. Some convey a sense of eternal searching, of pain and grief. Some are piquant with our own bodies, loves, families and deaths. Under the current circumstances and the strange times we are living through, this really does feel like a needed book. We could all do with being a bit more tree." - 
Jane Burn
Hierarchy of Needs
 is very structured, very inquisitive.
Join the Poetry Book Society for 25% off all books