Hello. Your Promise Has Been Extracted by Ahren Warner PBS Recommendation Winter 2017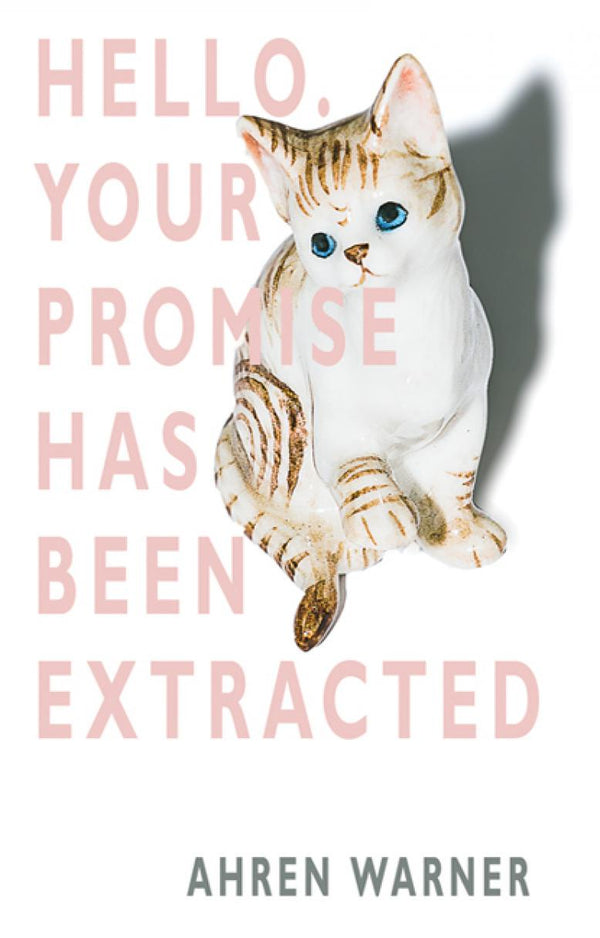 Hello. Your promise has been extracted is Ahren Warner's third collection of poems, a book in which the lyric runs in parallel with a series of photographs made by the author across Europe. From Paris, Berlin and Budapest, to Athens during the height of the Greek debt crisis and Kiev in the wake of the Maidan Revolution, the poems and images of this book form what Immanuel Kant might have called a cosmopolitan dialogue: a conversation between two speakers in two utterly different languages. 
Though the poems here often begin in conversation with writers and thinkers – from Celan and Plato to David Foster Wallace and Emmanuel Levinas – they are also profoundly and emotionally engaged with the realities of the contemporary world. Hello. Your promise has been extracted is not a polemic. It is neither witness nor reportage. Rather, it is a book that offers an insistent performance of poetic dialogue with the visual, philosophical and human experience it confronts.
'This ground-breaking book develops a startling, sometimes fierce, always compassionate engagement with the deeply troubled times in which we live. The schema is pitch-perfect in its lyric adaptations and wholly original in the way it incorporates a narrative of images to its purpose. This is work that demands our attention, yes, but more - our involvement.' – David Harsent
'Theatrical, toxic and oddly gorgeous… Warner moves from playful social observation, through reflections on memory and artifice, to a near-Baudelairean spleen, his games with language and ideas as serious in their investigations of the given world as any philosophy.' –  John Burnside, Poetry Book Society Bulletin
'Witty and wide-ranging… Ahren Warner has a claim to be the "poet's poet" of his generation. Even in apparently domestic and personal guise, he's a writer whose work conveys voluptuous but intelligent delight in language and technique.' – Carol Rumens, Guardian
Join the Poetry Book Society for 25% off all books