Health Hireth by Taran Spalding-Jenkin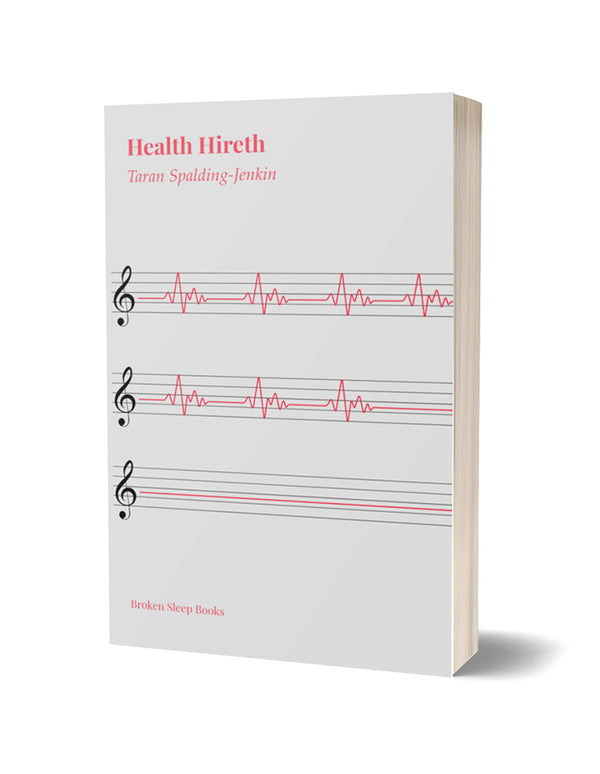 Health Hireth highlights the fleeting nature of both health and identity, as well as the challenges faced by those who exist on the edges of the healthcare system. Taran Spalding-Jenkin's poetry moves between past and present medical experiences as if existing between here and an Otherworld. Chronic illness, Cornish culture, gender, sexuality, and mental health are all woven throughout the evocative and poignant verse of Health Hireth.
PRAISE for Health Hireth:
Spalding-Jenkin's deep longing for place uproots a once-buried language that becomes the physical embodiment to the poet's homesickness. A ground-breaking debut poetry pamphlet in which the unwellness of body and mind can only be freed by accepting the border itself is liminal.
— Jennifer Edgecombe, The Grief of the Sea
Taran's refined yet feral magic exists in finding two body's worth of mouth under a single tongue, with the medicalised body acting as a proxy for a place rich in the history of the personal & the political. Existing somewhere between Glen Hansard & Tolkein & beyond the river Tamar, Taran is a subtle orator translating the grandeur of the horizon & all its infinite possibilities into an invitation in an outstretched palm. The text in Kernewek grants context & space for the poems & placing them firmly in the folklore Taran's work is fluent in.
— Sam J. Grudgings, The Bible II
ABOUT Taran Spalding-Jenkin:
Taran Spalding-Jenkin is a poet, performer, translator and native Kernewek speaker with a background in drama and folk tradition. Their work explores the spaces between identities, disability, queerness, and hireth – the longing for a lost home or one which has never existed. Taran is a co-runner of Bristol's music and poetry party Tonic, a bilingual workshop leader, and has won awards from Gorsedh Kernow for poetry and for BBC radio project A Shanty For Cornish Youth.
Broken Sleep Books
Join the Poetry Book Society for 25% off all books