The Healing Next Time by Roy McFarlane
PBS Winter Recommendation 2018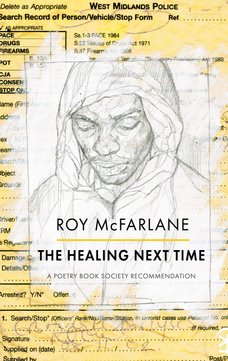 Roy McFarlane's second poetry collection, The Healing Next Time, is a timely and unparalleled book of interwoven sequences on institutional racism, deaths in custody and of a life story set against the ever-changing backdrop of Birmingham at the turn of the millennium. Here forms a potent and resolute narrative in lyrical and multidimensional poems which refuse to look the other way or accept the whitewashed version of events.
Courageous, rageful and mournful, these are poems of Black history and Black presence, poems of witness and poems of activism. McFarlane's intricate lines make record of injustice and mark the names of those who have lost their lives and dignity to prejudice and hatred. The Healing Next Time also asks vital questions of the future, and of the reader – and reminds us where the power to change things lies. It is also a poetry of personal discovery, of revelation and resilience – where the influence of Jazz and of James Baldwin infuse and shape this unique, remarkable book.
'Claudia Rankine's 'Citizen' contains the following key exchange from a visit to the UK: "Will you write about Duggan? The man wants to know. Why don't you?" Few rose to this challenge but Roy McFarlane's distinguished new collection The Healing Next Time takes on a whole history of official abuse and killing here with powerful and technically various poetry. McFarlane traces our hostile environment for new citizens, particularly those of colour, into some ugly corners, but it is a book of great love too, even when he's dancing with ghosts, as he does here in a wonderful poem of that name. I cannot recommend The Healing Next Timeenough.' — Ian Duhig
Join the Poetry Book Society for 25% off all books