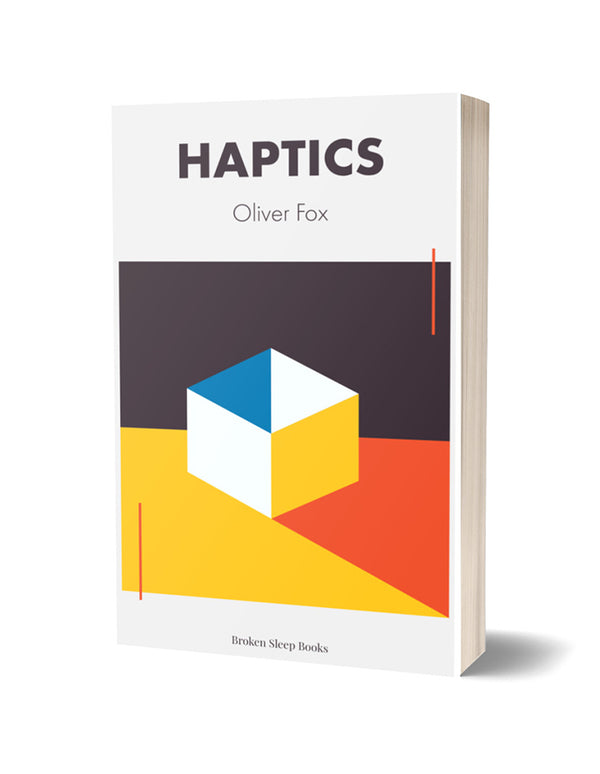 A troubled programmer disappears into their own hardware, bad mobile signal dictates the rhythm of a breakup, history's greatest corporate mascot lays waste to the metropolis... Haptics examines our complex relationship with technology, the ways in which it shapes and transmits our lives, and the worlds we inhabit which are dreamed for us by the electrical cycles of silicon microprocessors. Fox's poems reveal the wonder and horror of our tech muddled lives.
PRAISE for Haptics:
Whether we're approaching a technological apocalypse or not, and whether our feelings regarding the technological apocalypse are themselves manipulated by artificial intelligence or not, it takes some deep work to find our own location on any map which isn't compromised by corporate conflicts of interest. Which is to say Fox's poetry is an augmented-reality divining rod, an electronic scrying mirror, a historiography of the meta-commentary of a lost web. But as its title suggests, Haptics is about that point of physical connection – about feelings! – whether mechanically derived or otherwise, and whether it's possible to tell the difference anymore. Consistently sharp and on-point, Fox negotiates this constantly updating terrain with a rare sanity, wit, and poetic refinement.
   — Luke Kennard, Notes on the Sonnets
In Haptics, Oliver Fox invites us to look at (and not just through) the technology that makes so much of our lives possible. Here, our phones wake up before us, hard drives can forget as much as we do, and our lives are imagined in 'progress bars / in increments of tiny pleasure'. This is a witty, insightful and uncanny debut – and it's devastatingly relatable for everyone who calls the Metaverse (formerly known as Earth) home.
   — Helen Bowell, The Barman
ABOUT Oliver Fox:
Oliver Fox is a writer and arts administrator from London. He was a prizewinner in the 2018 Verve Poetry Competition, and his work has been featured in PERVERSE, Ambit Magazine, Strāva, and Broken Sleep Books' Hit Points anthology. In 2019 he was commissioned as part of Eleanor Penny's podcast series Bedtime Stories for the End of the World. He is a member of the Southbank New Poets Collective. Haptics is his first book.
Broken Sleep Books
Join the Poetry Book Society for 25% off all books