Guppy Primer by Ruth McIlroy PBS Pamphlet Choice Winter 2017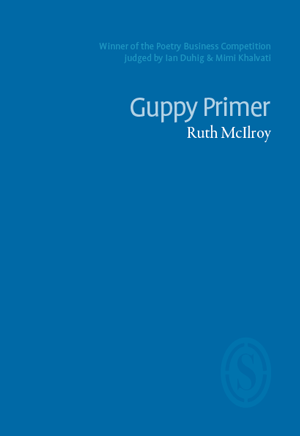 Ruth McIlroy was a winner of The Poetry Business International Book and Pamphlet Competition 2016/17, judged by Ian Duhig and Mimi Khalvati
This debut by Ruth McIlroy ranges between poems of fierce lyricism, off-kilter observation and deadpan humour. From the sinister comedy of the title poem, Guppy Primer, to the startling strangeness of 'after a dream', and the savage wit of 'I am not honest', these tender, hard and amused poems are an uncompromising celebration of ardency and badly-behaved language.
Guppy Primer's distinctive humour triumphantly demonstrates the fallacy of the notion of a "competition winning collection" with its daring and originality. By turning her poems' themes and motifs through fresh new language, narratives and scenarios, Ruth McIlroy proves that originality - not formula - mean that we can expect to see her name on more prize lists in the future.  - Ian Duhig
Ruth McIlroy grew up in Kingston, Jamaica, was educated in Edinburgh, and now lives with her family in Yorkshire, where she works as a freelance psychotherapist. Her poems have appeared in various magazines and anthologies.
She has been commended or highly commended in the Kent&Sussex Poetry competition, the Vers Poets Open Poetry Competition, the Lancaster Literature Festival Competition, and the Templar Iota Shots Competition. In 2015 she was highly commended in the Philip Larkin East Riding Poetry Competition, and in 2017 she gained second place in the York Literature Poetry Competition.
Join the Poetry Book Society for 25% off all books