Goliat by Rhiannon Hooson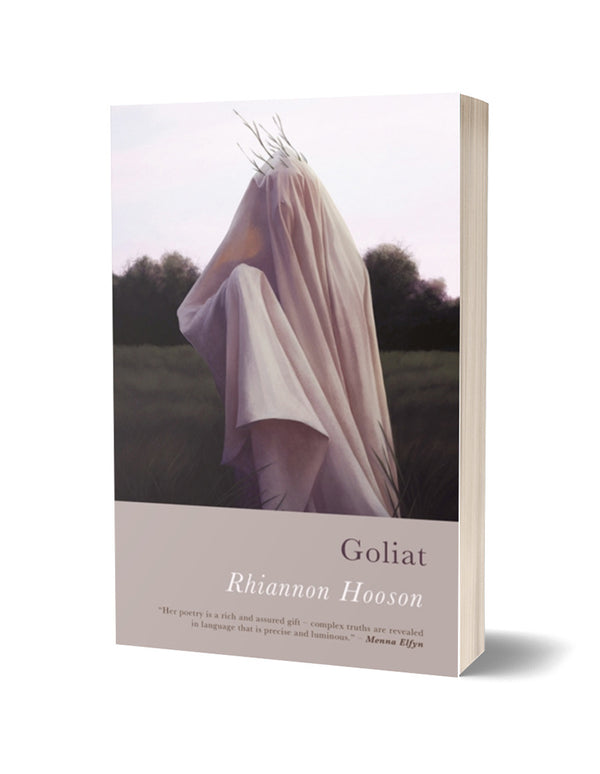 Goliat is a second collection and follow-up to Rhiannon Hooson's Wales Book of the Year nominated debut, The Other City. The poems are sumptuous, full of vivid imagery from the natural world woven with pointed observations that chime with contemporary themes, including social issues and climate emergency.
'Goliat' is the name of an oil field in the Barents Sea, and the Russian for 'Goliath': a whale, a giant, a monster. The title poem is in the voice of the creatures who swim the dark waters of the oil field Goliat, a gorgeous but unstable ocean where, to survive, they must resist the soft, illusory lures of the 'south' – an economy based on oil. Nature and climate crisis are always present in the consciousness of these poems, as in 'Doggerland', a lament for the nearing extinction of the white fronted goose, or in 'Horse Skull Crown', a folk dance for the evening of the world.
The pinnacle of the collection is the sequence 'Full Moon on Fish Street' which introduces an invented artist, known only as Aubrey, and it details the erotic dynamic with her muse Elizabeth Kidd. This relationship unfolds across poems and against the vividly alive, natural backdrop of St Ives.
There is a deep sense of place and history across the collection, with poems inspired by traditions of secret Romanian weddings, Typhoid Mary, and historical use of leeches. Stylistically, these poems have a deep, sensuous music, and their narrators often become intoxicated: by a colour described by Mexican artist Frida Kahlo; by the urge to follow a stranger on a city street; by blackberries or the life of a comet.
Hooson shows the world through fresh eyes, like, in 'Outliers,' the winter swans that 'littered / the fields like torn papers', or in 'Dung Beetle Love Poem', which begins with only 'the dance: we two / beneath a path of light.' A characteristic poem is 'Event Horizons' in which the narrator shares a moment of connection with 'Grace', a robot being sent to the event horizon of a black hole.
This beautiful, intelligent book offers absorbing and moving experiences of a precarious world. Goliat contains the irreplaceable beauty of a wild world, and the terrible damage that humans might do to each other and the earth.
Seren Books
Join the Poetry Book Society for 25% off all books