Gin & Tonic by Phoebe Stuckes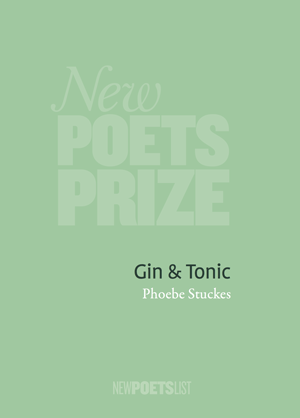 Gin & Tonic is about the bittersweet experience of trying to grow up fast. The poems, written whilst living alone for the first time, are about drinking and pop music, trauma and love, glitter and girls.
Phoebe Stuckes is a poet from Somerset. She has been a winner of the Foyle Young Poets award four times and is a Barbican Young Poet. She has performed at the Southbank Centre, Wenlock Poetry Festival and the Poetry Cafe, and was the Ledbury Festival young poet in residence in 2015. Her poetry has been published in The Missing Slate, Rising, The Morning Star and Ambit among others. 
There's a sense of confidence in these poems that won't let you rest. Each seems to tell you a secret and then make you complicit in it too. From compelling monologues to blues pieces, every poem is charged with a savage humour, building a world where 'getting dressed feels / like being stood up' and 'crying in cabs / could be glamorous / if I did it correctly.  – Helen Mort 
Phoebe Stuckes poems summon up in me the same feelings I get from looking at impressionist art. There's a beautiful lightness of touch combined with a compelling depth. And while they stand up to being admired from across a room and the minutest scrutiny, they also reward repeated viewing.
While most artists merely hold up a mirror to the world, Phoebe Stuckes is not afraid to shake the damn thing while doing so. –Phil Jupitus 
Join the Poetry Book Society for 25% off all books