Ghost Clinic by Nathaniel King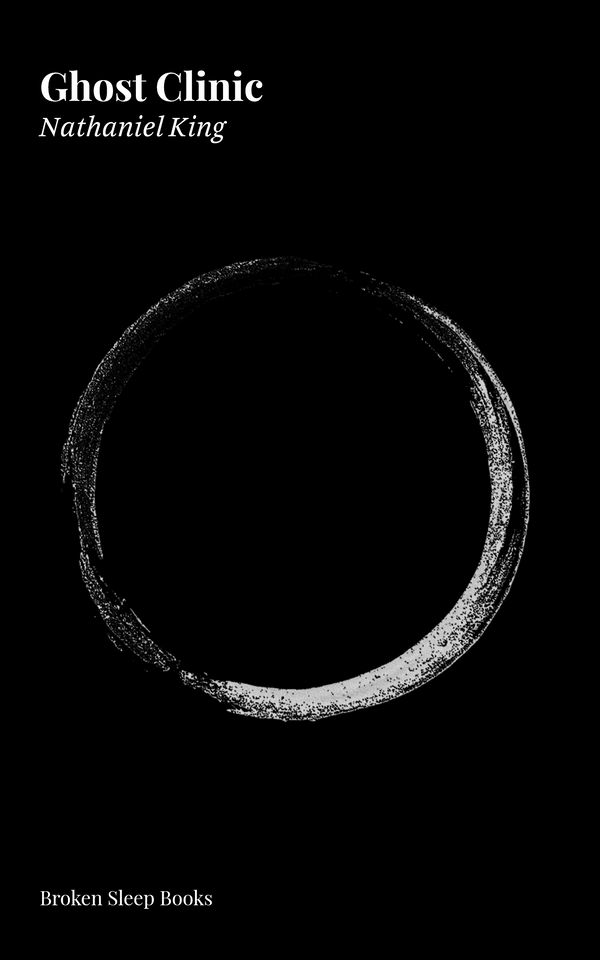 Nathaniel King's Ghost Clinic is a luminous inquiry into the ghosts that haunt and comfort us everyday. A delicately interconnected series of lyrical essays, this compelling debut performs a sly autopsy on our cultural moment. Drawing upon a kaleidoscope of voices from the humorous to the meditative, Ghost Clinic chronicles the myriad of spirits that stalk the waking world. From how to conjure ancient Japanese spirits, to a suburban fast-food chain permeated by the ghosts of pandemic victims, to a drug-addled sitcom star visited by the apparition of his former agent, these poems invite us to stop and consider what happens after the lights go out, the funding is cut, and the cameras stop rolling.
PRAISE for Ghost Clinic:
Set within a splintered hyperreality, King plunges us headfirst into a series of prosaic poems dealing with the 'ghostification' of the soul, and our dissociation with the world we have created for ourselves. Dealing with the psychological trauma of human detachment, and forced through a kaleidoscope of popular culture, the author pins open our eyes in order for us to become commodified, falsified, disconnected and disposed of. Written with a deep intelligence and a distinct angularity, this series of hallucinations highlights our obsession with the unreal, and the material nature of existence. Upon absorption, we as readers become transparent, translucent; ghosts not only of ourselves, but of the twisted humanity we find ourselves sleepwalking into.
   — Stuart McPherson, Obligate Carnivore
Ghost Clinic began, and is perhaps destined to remain, an inscrutable factory. A place to launder the dead.' Like a hypnotist's command, the opening lines of Nathaniel King's searing debut of lyrical essays plunges us into a surreal twilight world; one uncannily reminiscent of our own. Ghost Clinic dares us to consider the absurd rituals and obsessions that haunt contemporary existence. Following an unlikely yet carefully curated cast: a celebrity avatar visited by the apparition of his former agent, a rotten apple delivering a prophecy, Claude Monet's late wife, King skilfully disseminates meaning. His protagonists stumble half-awake through a dying epoch, plagued by the symptoms of their psychic ills, yet unable to fully grasp what is happening to them. While often absurd in the forms they take, their crises of meaning and alienation feels uncomfortably close to home. Weaponizing wry humour, King delivers his weightiest provocations as punchlines. It's through this sleight of hand that his inquiries materialise like poltergeists: is language a tool to create or obfuscate reality? Just how far have we strayed from paradise? Both a haunting meditation on our cultural moment, and a luminous chronicle of the ghosts that stalk the waking world, Ghost Clinic marks the entrance of a significant new talent.
   — Steve Mallon, Iced Lemon Water
ABOUT Nathaniel King:
Nathaniel King is a poet from Cornwall, UK. He holds an MSc in Creative Writing from The University of Edinburgh and currently lives and teaches in London.
Broken Sleep Books
Join the Poetry Book Society for 25% off all books