Futures: Poetry of the Greek Crisis, edited by Theodoros Chiotis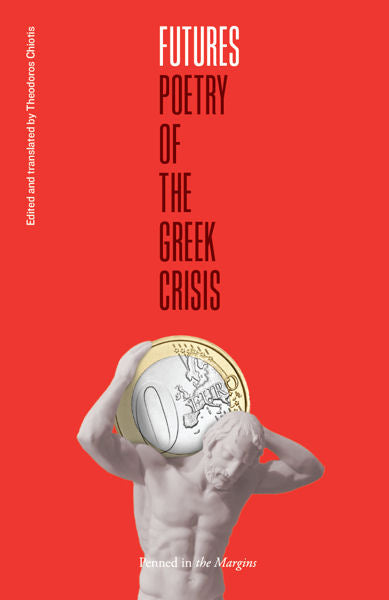 Futures features some of the most daring new voices in Greek poetry, together with international poets with Greek connections.
These bold, impassioned and critically aware texts stake new poetic and political ground: they articulate what it means to live in a time when capitalism is buckling under its own weight and new ways of living and thinking seem to be emerging. In a time of crisis, Futures calls for solidarity, resistance and poetry as a political paradigm.
Contributors Dimitris Allos, Orfeas Apergis, Vassilis Amanatidis, Marios Chatziprokopiou, Theodoros Chiotis, Emily Critchley, Yiannis Doukas, Nikos Erinakis, Phoebe Giannisi, Constantinos Hadzinikolaou, Κaterina Iliopoulou, Panayotis Ioannidis, D.I. (Dimitra Ioannou), Adrianne Kalfopoulou, Patricia Kolaiti, Dimitra Kotoula, Alexios Mainas, Christodoulos Makris, Sophie Mayer, Stergios Mitas, Eftychia Panayiotou, Konstantinos Papacharalampos, Iordanis Papadopoulos, Stephanos Papadopoulos, Eleni Philippou, Stamatis Polenakis, Nick Potamitis, George Prevedourakis, Theodoros Rakopoulos, Kiriakos Sifiltzoglou, Eleni Sikélianòs, A. E. Stallings, Yiannis Stiggas, Barnaby Tideman, Maria Topali, Tryfon Tolides, Thanasis Triaridis, Thomas Tsalapatis, George Ttoouli, Universal Jenny, Steve Willey.
Join the Poetry Book Society for 25% off all books