Four Portions of Everything on the Menu for M'Sieur Monet! by Penelope Shuttle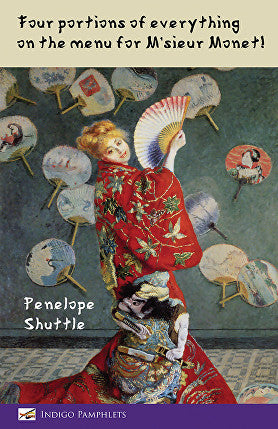 Back in 2005 I attended a Study Day at Tate Britain which focused on the Gallery's current major exhibition, Turner, Whistler, Monet.  I made some notes, filed them and promptly forgot about them.  
A few years later they came to light in a notebook.  Suddenly I found myself writing about Monet in London.  Monet was a man with a very hearty appetite.  I'd gone to the Study Day on my own, but more usually I go to places with friends, or with my daughter. In one of the poems here I'm accompanied by my Great Aunt Wave, and it is 1955. We travelled from Staines to Windsor on a Salters' Steamer, which still steam along the Thames. In fact I recently saw the steamer again, and I think it was the same one we went on in 1955!
The common thread of the pamphlet is visits I've made and experiences I've had during these visits.  Sissinghurst, Paris, Lapland, Galway, Wales, and Rome, are some of the places explored.  
I hope that this set of my travelling poems captures a sense of the energy I felt in each different locale.
Penelope Shuttle
July, 2016
Join the Poetry Book Society for 25% off all books