Förgätmigej // Forget-me-not by Carl Alexandersson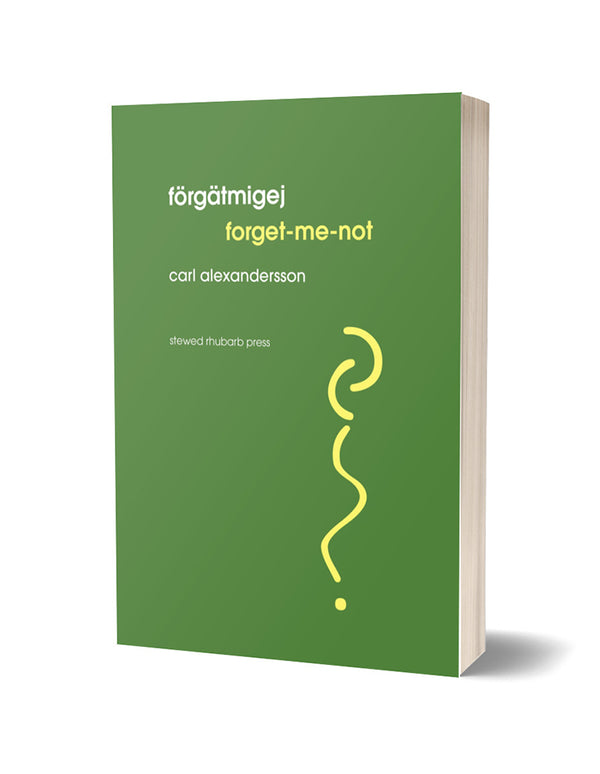 Rooted in flowers and the Swedish language, the poems in Förgätmigej // Forget-me-not shape two overlapping narratives: one of family and one of queer love. In the interweaving of the two we find acceptance, understanding, love and joy, the seeds of how to live with grief and how to begin again.
Carl Alexandersson (he/him) is a queer spoken word poet and writer, based in Glasgow, hailing from Småland, Sweden. He was selected for the BBC Words First programme in 2021, Highly Commended for the Edwin Morgan Poetry Award 2022, and a runner-up for the Grierson Verse Prize 2022.
"I love Carl Alexandersson's work, and Förgätmigej // Forget-me-not shows exactly why: deliberately crafted, and skillfully held, it is filled with tenderness and humour as it charts journeys of love, family, and countries, the speaker navigating key questions and realisations in poems which are filled with voice and poignancy. I love how Carl's writing finds beauty and meaning in the everyday, with a signature playfulness and tenderness that is all his own. A joyful presence in poetry, I can't wait to watch his career – like the many flowers of his collection – bloom and thrive." – Nadine Aisha Jassat, author of Let Me Tell You This.
"Förgätmigej // Forget-me-not blooms with dreamy nostalgia and wistful stillness. Attuned to the rhythms and cadences of life's smaller moments, Alexandersson skillfully moves between English and Swedish while honouring the etymology of his words, allowing each of his lines to take root and flourish into a generous garden of quiet observation. Förgätmigej // Forget-me-not breaks through life's overwhelming noise to find refuge in the small everyday like two lovers walking through a garden and getting to know one another through aimless conversations or a grandson looking through memorabilia in a family attic. What Alexandersson shares in these poetic moments is stunning and will pull at your heart strings." – Andrés N. Ordorica, author of At Least This I Know.
Stewed Rhubarb Press
Join the Poetry Book Society for 25% off all books