Five Books by Ana Blandiana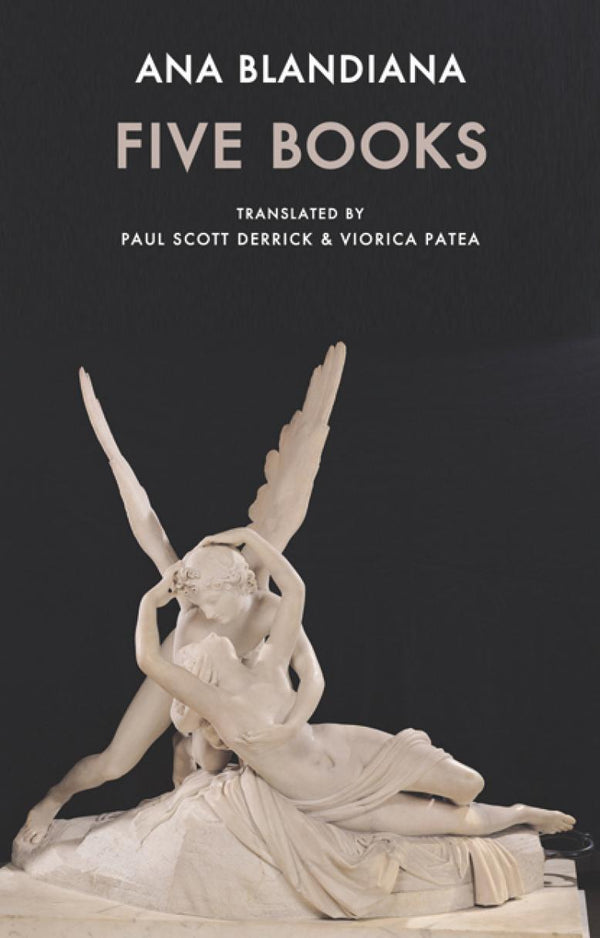 Ana Blandiana is one of Romania's foremost poets, a leading dissident before the fall of Communism, and now one of her country's strongest candidates for the Nobel Prize. A prominent opponent of the Ceaușescu regime, Blandiana became known for her daring, outspoken poems as well as for her courageous defence of ethical values. Over the years, her works have become the symbol of an ethical consciousness that refuses to be silenced by a totalitarian government. This new translation combines five collections, three of protest poems from the 1980s followed by her two collections of love poetry. The book also includes four poems published in the journal Amfiteatru in 1984 – which also appeared in The Independent in the UK – which brought about her second publication ban in Romania under Ceaușescu. 

The Amfiteatru poems marked a turning point and radicalisation of her lyrics, as well as of Romanian poetry in general. These poems and those of Predator Star (1985) and The Architecture of Waves (1990) chronicle a convulsed history and pose the question of how to resist the terror of history. The poet's personal destiny ceases to be a concern, while collective history becomes her obsession. The Architecture of Waves was the last book she wrote under Ceaușescu's dictatorship and the first to escape censorship. It continues the themes of the poems of Amfiteatru, analysing national history and national identity in the light of historical symbols, myths and the folklore of Romanian literature such as the ballad 'Miorița' and 'The Master Manole'.
Clock without Hours (2014) brings together postmodern postulations and a simplicity that surpasses literary currents. Stylistically the volume marks a return to rhyme, as Blandiana attempts a courageous renovation of traditional verse forms. Her fiercely militant voice, that more or less inaugurated the postmodern idiom in Romanian poetry in 1984, has modulated over time into a new tone of forgiveness and renunciation, expressed in meditations on the fragility and vulnerability of being. The poems in Clock without Hours decry impersonal human communications via Facebook "likes", and the sense of alienation and depersonalisation of human beings in our time. This is a book about Time with a capital T, concerned with death, salvation, and escape from materiality. Blandiana reflects on the twilight of the spirit, the accelerated erosion of matter, and the evanescence of being.
A prolific and expansive poet, Ana Blandiana constantly re-invents herself. She has distinguished herself not only by her subversive poems of protest with a political bent, poems that speak from the heart of the Romanian people about their suffering and lack of freedom, but also as a poet who addresses life at the millennium. Her work ultimately reflects on universal issues, on human existence itself in our 21st-century consumer society. Yet finally, despite her inimitable public sensibility, her most characteristic, moving, and enduring voice resonates in her poems immersed in the mysticism of love, poems which are included in this volume.
Blandiana has also written two collections of love poems which rank among the most beautiful in contemporary Romanian poetry – October, November, December (1972) and Variations on a Given Theme (2018) – the second of these composed after the death of her husband, Romulus Rusan, in 2016. Like Verlaine, who aspired to pure poetry, and Mallarmé, who sought the supreme idea, Blandiana in her love poetry continues to explore the mystery of articulating the language of the inexpressible. October, November, December depicts love as both a state of mystical delirium and a reflection of the mysterious process of poetic creation itself. Variations on a Given Theme (2018) is an elegy that renews the genre. Both engage in dialogue across time.
'The Romanian Ana Blandiana is one of Europe's greatest living poets, and she's well served by this substantial volume containing five previously untranslated collections. Ranging across her writing life, they create a layered portrait of a complex yet consistent poetic identity.' - Fiona Sampson, The Guardian, on Five Books
'This is a collection that deals with change and its repercussions; the affects that can't be seen coming and the way that large scale change can utterly de-centralise a person.' – Matt MacDonald, Glasgow Review of Books [on The Sun of Hereafter]
'Blandiana is a pure lyricist, focused entirely on the event of how imagination finds words and rhythms that make certain mental experiences memorable. Her poems characteristically achieve strange precisions by having pervasive metaphors unfold her sense of "sacred void" as negative plenitude.' – Charles Altieri, UC at Berkeley
Join the Poetry Book Society for 25% off all books