Finite Formulae & Theories of Chance by Wioletta Greg, trans. by Marek Kazmierski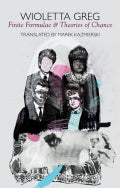 One hundred years since the outbreak of the First World War, the Polish poet Wioletta Greg undertakes a literary journey through her own family history, exploring in both poetry and prose a century of life, death, love and tragedy. With passion, tenderness and humour, she traces a path from the lives of her grandparents in early twentieth-century Poland, through two world wars, life under Communism and the subsequent liberation, to her own experiences as a migrant living in Britain on the Isle of Wight.
Wioletta Greg's new collection, in Marek Kazmierski's attentive and nuanced trans­lation, serves as both a moving personal testament to a family that survived, and a compelling document of a century of European history.
Join the Poetry Book Society for 25% off all books