Exposition Ladies by Helen Bowie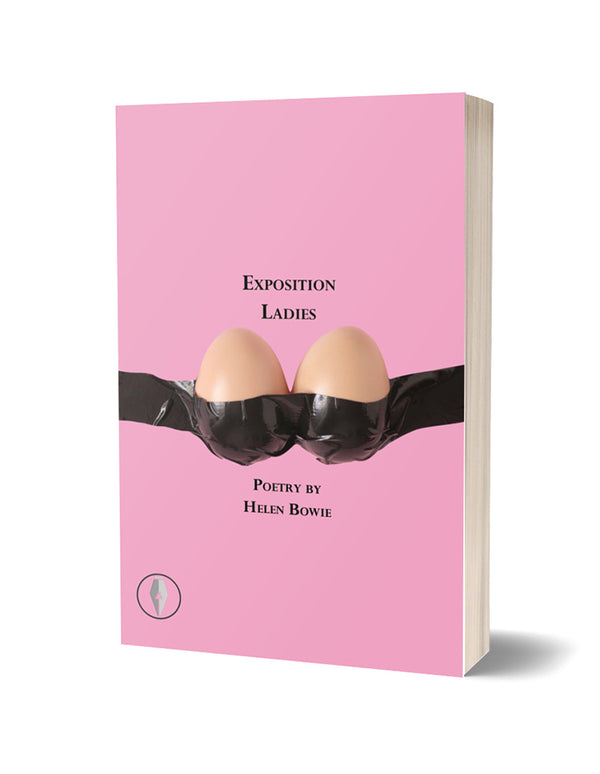 "I am the exposition lady; in soft focus I undress 
while listening to Max Richter on vinyl; I eat a 
pastry in my underwear; I stretch, pull back the 
curtains; I am carefree; a perfume advert; a 
vaseline lens to a teenage dream"
In this chapbook, Helen Bowie composes a love letter to the poorly-scribbled female characters of Hollywood and beyond, who exist solely to move the plot along. 
These witty poems navigate the eco-systems that women navigate. They ask us to think: what do the roles we see on stage and screen tell us about the roles expected of women in society?
"Bowie's Exposition Ladies is an astute examination of female agency in film. With clarity of language and vision, Bowie has served up a smorgasbord of vivid, urgent female voices, giving voice to characters who are fringed, sidelined, ignored, objectified, crammed into a bit part, reduced to a cut-out - women made disposable in service of someone else's story, "just here for exposition, never for myself". These monologues are humorous, insightful, and chilling by turns." - Angela Cleland
"Every film has an exposition lady. Never noticed her before? You will after this. Exposition Ladies is an inventive collection that captures intimate close ups of women who are only ever allowed to be in the wide shot."
-Daisy Leigh-Phippard, screenwriter, director and writer for ScreenQueens
"Confronting absurdity with playful forms and sensitive observations, Helen Bowie's Exposition Ladies delivers a witty caustic takedown of the formulaic female in film. Movie lovers will enjoy, as I did, lingering on a well-crafted line to figure out what the referent film could possibly be."
- Sarah Dean, writing on film and screen content @screendeetz
Fly On The Wall Press
Join the Poetry Book Society for 25% off all books