Everything That Can Happen: Poems about the Future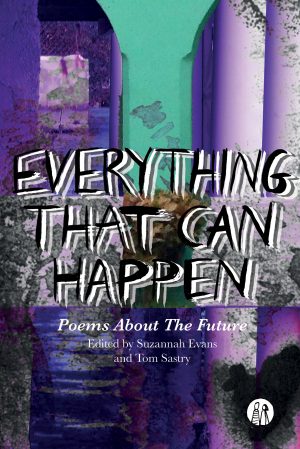 Everything That Can Happen is a collection of poems about the future.
We're talking robots, time travel and life in other galaxies, millennium bugs, Mayan predictions, Nostradamus, the next war, the Enlightened future; the making of prophecy; the failure of prophecy. This poetry anthology is a rich document of visions, a survival guide to the possible disasters that we're all staring down, the book that archaeologists will unearth in a few thousand years and study as a document of how justifiably paranoid we all were.
With poems from Amy Acre, Craig Barker, Sharon Black, Carole Bromley, Sue Burge, Joe Carrick-Varty, Alexandra Citron, Frank Dullaghan, Charlotte Eichler, Annie Fisher, Rosie Garland, Matthew Haigh, Robert Hamberger ,Susannah Hart, Pamela Johnson, Tim Kiely, Alice Merry, Karin Molde, Chloe Murphy, Luke Palmer, Ilse Pedler, Nina Mingya Powles, Kerry Priest, Charley Reay, Laura Ring, Shauna Robertson, Shelley Roche, Emma Simon, Marion Tracy, Peter Twose, Jane Wilkinson and Jo Young.
Join the Poetry Book Society for 25% off all books