End Ceremonies by Stuart McPherson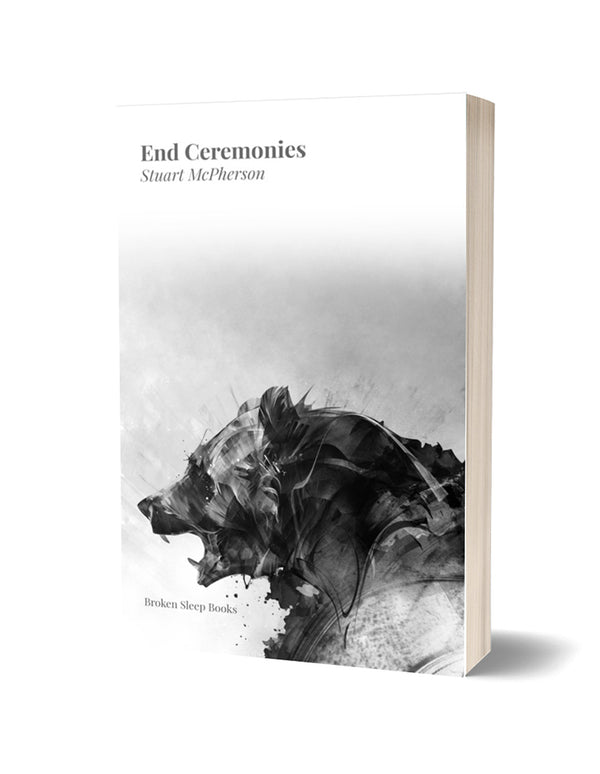 End Ceremonies by Stuart McPherson is at times tender, at times wounded, the poems exploding outwards into a galaxy of miraculous imagery and "an infinitude of Octopus eyes". The themes are often dark, fighting bare fisted with the dualities found within self-discovery and identity, but written in such compelling, haunted, and hypnotic tones, that the work becomes irresistible. These are poems of closure and rebirth, where the "shapes of ghosts demand to be exorcised"
PRAISE for End Ceremonies:
This extended collection is distinguished by a measured lyricism and an achieved awareness of the strangeness of our everyday lives.  We are in unflinching territory where 'story is written as scar', poetic energy being productively directed as, for example, in a compelling sequence about a totem animal, the bear. Throughout, human and animal presences manifest in both real and mythic dimensions. Most strikingly, the war on the self and with encountered others flares out everywhere in poems that shiver with life and brilliant purpose. In a  poetics addressing the implacable forces of existence,  the poet seeks to find foothold, to comprehend and endure. Tactile, muscular, possessing a richly-layered sense of the spirit, the imagination is working at full throttle in End Ceremonies; an essential read for all who are concerned with contemporary poems and contemporary issues.
   — Penelope Shuttle, Lyonesse
Stuart McPherson's new collection, End Ceremonies, is a revelatory, elemental, poised, limitless, mysterious, engaging exploration of the self, its world, our world, its dreams and ours and the many-stringed emotional and intellectual responses to it all. Formally adept, a live voice singing it all into being with dispassionate sentiment, exact feeling. Wide-ranging, challenging, kind, attentive, exciting poems, opening wonderfully on the page. You'd better read them. Now.
   — Ian Patterson, Shell Vestige Disputed
ABOUT Stuart McPherson:
Stuart McPherson is a prize-winning poet from the UK. Recent poems have appeared in Butcher's Dog Magazine, Bath Magg, Poetry Wales, Anthropocene and Blackbox Manifold. His debut micro pamphlet Pale Mnemonic was published in April 2021 by Legitimate Snack. His pamphlet Waterbearer was published in December 2021 by Broken Sleep Books. A debut full length collection Obligate Carnivore was published by Broken Sleep Books in August 2022. In October 2022, Stuart was the winner of the Ambit Annual Poetry Competition.
Broken Sleep Books
Join the Poetry Book Society for 25% off all books