Dream into Play by Richard Skinner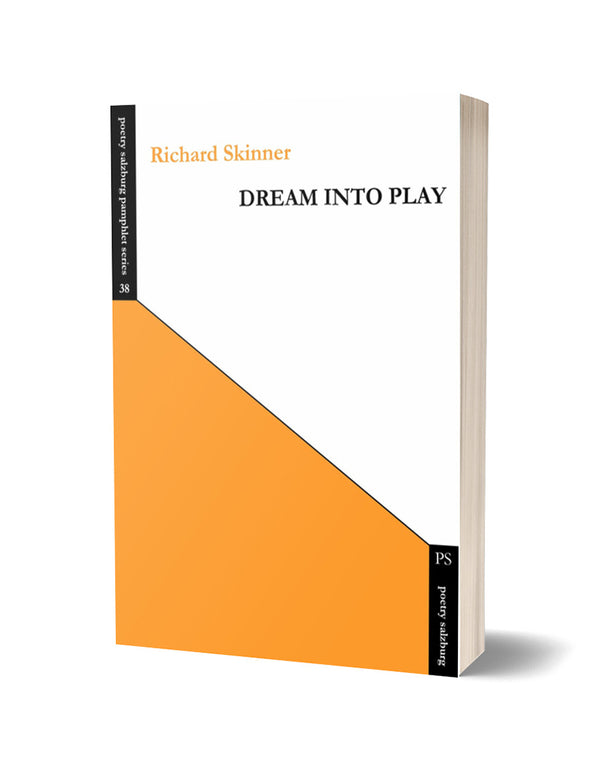 "The mysteries in Richard Skinner's work – images or accounts sometimes just touched on, just touched-in – are compelling; they shape the poems' scope and substance. As a group, these poems pester and perturb, they will get under your skin, might leave a bruise, will press you to re-read, rediscover, re-imagine. In that way, Skinner's contract with his reader is both genuine and generous."
David Harsent
"
Dream into Play
 is another wonderful offering from Skinner's brilliantly elegant and dexterous lexicon. Drenched with colour, shade and often emerging from behind subtle screens, these are poems of deep intelligence, of gentle salve, of measured playfulness. They are poems that make us think differently about the texture and calibration of language, the slow veiling and unveiling of imagery, of personal revelation. A meticulous craftsman, Skinner teaches us that the poet, like Atropos, must 'Hold his tongue, and when the time comes, measure twice, cut once'."
Clodagh Beresford Dunne
"Dreams and play are central to the possibilities of how language can transform grief into an aesthetic object to be handled and contemplated in the wake of bereavement. Skinner's astonishing craft is something readers of his work have come to expect, but the sheer inventiveness and level of risk-taking in 
Dream into Play
 is startling. References to other art mediums and classical and popular culture are all part of the poet's palette. The rich intertextuality that he melds into transformational poetry is a way of bearing the unbearable – giving it appreciable value. Skinner makes sense of grief through wordplay, paradox, and inventiveness. Like a cubist artist, he collages fragments from deep personal experience, dreams, art, and culture. In an ironically exhilarating exploration of loss, these poems give back what has been taken through exceptional creative force."
Lisa Kelly
Poetry Salzburg
Join the Poetry Book Society for 25% off all books