Darkening/Myrking. Poems in Faroese by Sissal Kampmann, translated by Marita Thomsen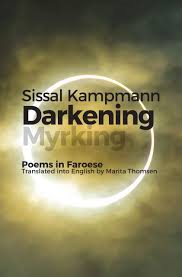 In the Faroese ballad tradition of wandering narratives, award-winning Faroese author Sissal Kampmann tells stories distilled into poetry. In Darkening/Myrking the concept of home is at the heart of this tale of love and longing,  finding a place in people and time in a world of contrasts – looming mountains and wide horizons, outfields and streetlights, island isolation and urban anonymity.
This is the first-ever bilingual Faroese–English publication of a work of Faroese literature. And who better to bring Faroese literature to the English speaking world than Sissal Kampmann, one of the pre-eminent contemporary Faroese poets, whose voice clothes universal human experience in distinctly Faroese imagery.
Join the Poetry Book Society for 25% off all books