Dame Julie Andrews' Botched Vocal Surgery by Katherine Meehan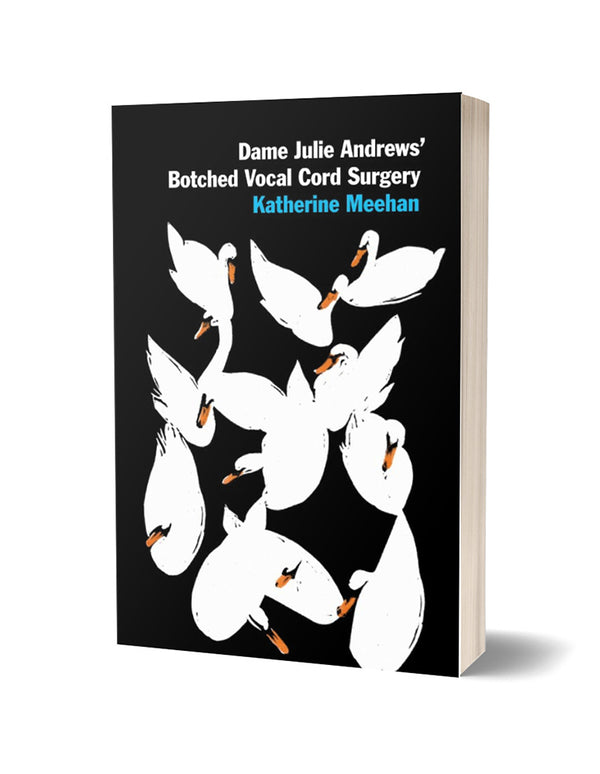 In the title poem of Katherine Meehan's debut collection, Dame Julie Andrews' Botched Vocal Cord Surgery and Other Poems, the poet presents an examination of losses, failures, and griefs, all of them tempered by an unusual humour.
Grounded in the particularities of location, these poems wander between urban and rural spaces, from Los Angeles and Appalachia to the English home counties. Glass eels, Grendel's mother and a host of nameless 'losers' are given voice as the collection explores the tension between the futility of the speech act and its necessity.
'Katherine Meehan is a master at turning the mundane into the transcendent. Her first collection, Dame Julie Andrews' Botched Vocal Cord Surgery is rich with sensual detail and striking imagery, it moves between countryside and city, fog and bright light, grief and joy.

The spectre of loss haunts these poems, both in the form of grief and in delicately wrought eco poems that fear for what is yet to be lost. This is a collection of many colours, populated by trees and insects, monsters and complicated humans. There is a whirlwind of biblical floods, "the smell of rotten lamb's blood" and "all the hickories, their limbs encased in silk as if by fog."

There is also, incidentally, the most atmospheric poem about a dishwasher ever written. Do not miss this fleet of perfectly made poems, give them the chance to haunt you'

— Phoebe Stuckes

'It's an impressive trick to pull off: poems which seem both spacious and confidential at the same time, poems like doors opened into new worlds of irony, or else closed to stay – though not cancel – a constant melancholic hum. This is a brilliant, detailed collection, unafraid to address weighty matters, the whole dang thing, with wit and a hard-won understanding of loss'

— James Womack

Two Rivers Press
Join the Poetry Book Society for 25% off all books