Country Music by Will Burns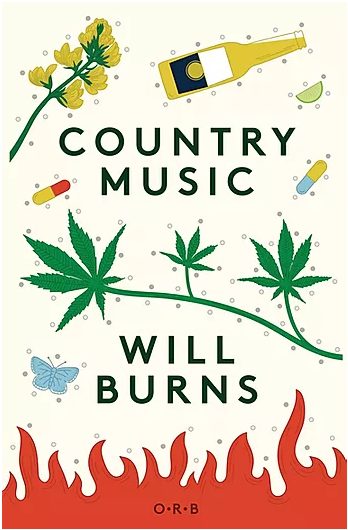 The poems in Country Music are observant, curious, finding everywhere they look detail worthy of notice, determined in that 'The falsehood is that there is little / left for us to know'. This same faith in the minutiae of the world acknowledges the cost of our decisions, however small – that 'To feel the evening coming up / and to stream one way or another' can be the difference between this life and that, 'at once to feel / all these things change'.
From the intimately personal – the choices that lead us towards, or away from, old friends, lovers, family members and their lost and vanishing stories, to the collective – humanity's 'bad choices piling up like debts' – Burns is everywhere concerned with consequence and responsibility. 'The bloody mess of individuals – / plastic stuff outside an abandoned tent', tobacco packaging, dogshit, old newspapers, styrofoam, white goods, both blend into and stand out from the landscape. This is evidence of the human cost, the tent's inhabitant existing at the margins. There are 'rubber boats in the news / and no borders to heavy weather', the patterns of migratory birds are disrupted, and a sequence of poems explores the poet's grandmother, displaced after the war, like a castaway, to 'some welcome or unwelcome or indifferent port.'
Quietly, insistently – against a ground of Chet Baker's trumpet, a Texan country singer 'on his second life', beer and bourbon and Brêton cider, American primitive, Merle Haggard, Warren Zevon, marijuana and micheladas and the shimmer of pedal steel – the coded messages of the natural world show through. Here is an exhortation to remake, restore, 'begging for you to build again – / this time something cool and that will last'.
In its evocations of doubt and responsibility, music and memory, Country Music is a debut of immense power from one of British poetry's most accomplished new voices.
​
'The poetry of Will Burns is made of smoke and mystery, pale light after the rain, and cutting, razor-sharp memory. It's the blood that runs through those who walk alone in woods and alleyways at night.' – Mark Lanegan
Join the Poetry Book Society for 25% off all books