#Afterhours by Inua Ellams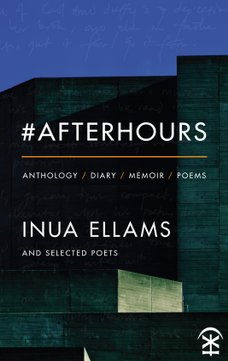 In 2015, Inua Ellams was poet in residence at the Poetry Library at the Southbank Centre in London. His #Afterhours project took him on a voyage of cultural translation and transposition through time and place, to the heart of the libraries' rare books collection, and through his own life's story as he selected poems published during each year of his life, from birth to the age of 18.
In return, Ellams opens up a captivating and potent dialogue between poems, writing a diary and intricately-crafted poems of his own in conversational response to the poems he selected from the Poetry Library collections. Here, for the first time together, are the collected #Afterhours poems alongside the re-discovered poems which inspired them and the diary entries which follow this journey. In Ellams' meticulous hands, this becomes an entire narrative in its own right, compelling and magnetic, drawing parallels of displacement, language and reclamation, and showing poetry's great capacity to be a powerful amplifier of human experience.
Join the Poetry Book Society for 25% off all books