Consolatio by Habib Tengour trans. By Delaina Haslam and Will Harris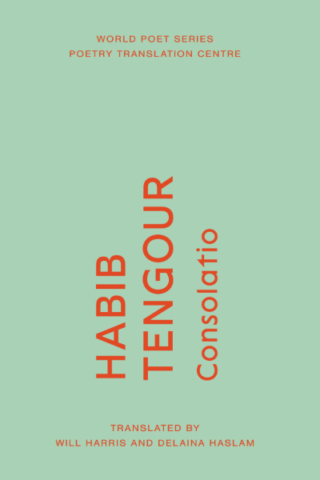 Habib Tengour is one of the leading visionary writers of post-colonial Algeria. Rooted in Maghribi cultural identity and memory, his poems consider the experience of exile in a voice that is by turns unsentimental and surreal. He is one of a group of Algerian writers who choose to write in French, but the long heritage of Arabic and Imazighen poetries reverberates through his work alongside the voices of the storytellers of his childhood and the urgent 'desire-scream' of raï music. Tengour is a prolific writer of both poetry and prose, and his work has been translated into a number of languages and is celebrated worldwide. This collection features poems from his most recent collection Consolatio, as yet unpublished in French, with its mix of playful poem-puzzles and longer prose poems reflecting on forms of loss.
The Poetry Translation Centre's World Poet Series showcases the most exciting living poets from Africa, Asia, the Middle East and Latin America. The poems in this edition have been translated by Delaina Haslam and Will Harris.
Join the Poetry Book Society for 25% off all books