Commonplace Book by Taylor Strickland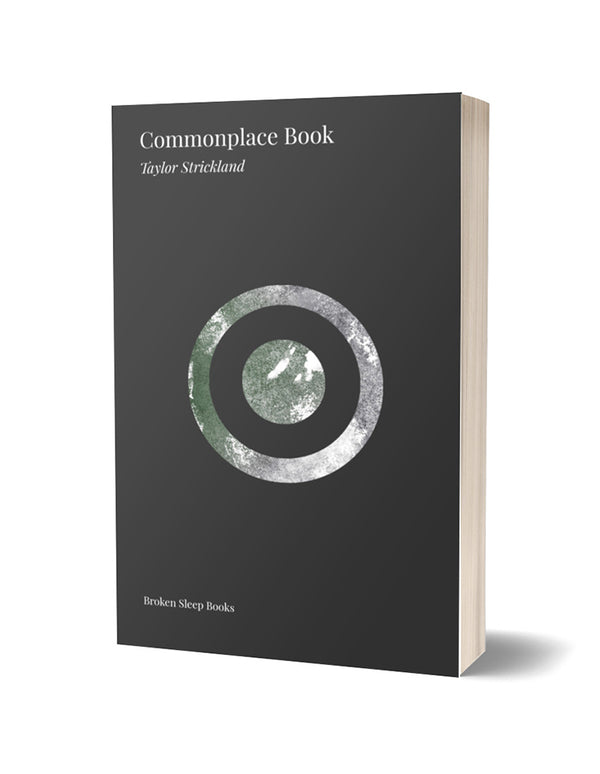 Taylor Strickland's Commonplace Book moves across the Atlantic from the poet's native United States to the landscape and seascape of Scotland, exploring through its inquiring lines the beauty of the terrain and the complexity of human life. Commonplace Book features poetry of fresh and dextrous language, firmly rooted in tradition, alive to the "melon-light dripping from each rock/ like meltwater."
PRAISE for Commonplace Book:
The poems of Commonplace Book search for promise and light in disillusionment, but are aware that brilliance doesn't preclude abandonment: they are powerful explorations of the complications and limits of the marvellous.
— Pàdraig MacAoidh/Peter Mackay, Gu Leòr / Galore
The poems in Commonplace Book are sonically-attuned, troubled, poised between joy and loss, heaven and earth. Taylor Strickland's work brings us right into the landscapes of Scotland and of the mind, drenching us with rain, then breaking us open with a warm, forgiving sun.
— Seán Hewitt, All Down Darkness Wide
Taylor Strickland's Commonplace Book finds a common place for the common and uncommon, for CalMac ferries and Alasdair Mac Mhaighstir Alasdair's 'Birlinn of Clanranald', for Alba and Jessica Alba, for the modern office and abandoned Highlands landscapes. Strickland is a deft poetic geographer, following desire paths across continents and sketching starkly memorable studies of the American mid-west and the Scottish North Atlantic. As a connector of cultures, he knows that 'Love is a hyphen', but follows an underlying elegiac itch in search of the 'Never-green, a nothing-nest, /so eerily similar to nothingness' – eerily similar, yet richly present and sustaining too.
— David Wheatley, Stravaig
A pamphlet of rare music. I loved it 
— Niall Campbell, Noctuary
Taylor Strickland's verse explores the natural world that exists in a huge variety of places, ranging from the Great Lakes of the United States to the tiny island of Tiree off the west coast of Scotland, touching on the myths and legends that are part of the history of these locations on his way. He does this with excellence and style, revealing much about the workings of his own heart and mind as he does so. An outstanding poet, his every word displays the range of his craft and mastery. 
— Donald S. Murray, In a Veil of Mist
ABOUT the author:
Taylor Strickland is a poet and translator from the US. He is the author of Commonplace Book and Dastram/Delirium, his forthcoming versions of Alasdair Mac Mhaighstir Alasdair (both with Broken Sleep Books). Recently, his poem 'The Low Road' was adapted by American composer, Andrew Kohn, and performed in Orkney. His poem 'Nine Whales, Tiree' is in the process of being adapted to film with filmmaker Olivia Booker and composer Fee Blumenthaler. He is currently a doctoral candidate in literary translation at the University of Glasgow, and he lives in Glasgow, with his wife, Lauren.
Broken Sleep Books
Join the Poetry Book Society for 25% off all books